Graduation will cap my academic, personal progression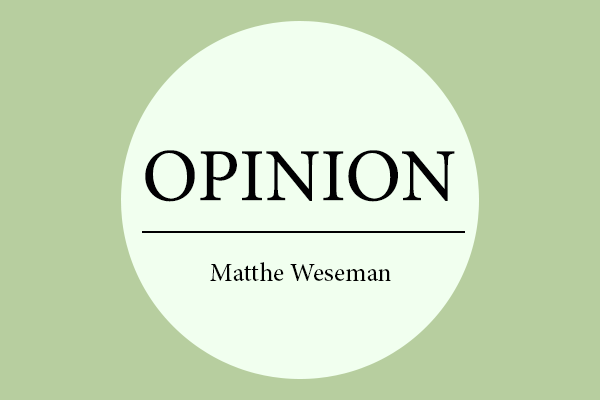 By MATTHEW WESEMAN
I have failed 14 classes. Now let me tell you a little secret: I'm going to graduate this spring.
Five years ago, I was a 17-year-old high school senior, pudgy and awkward and tragically unsure of myself.
Like my peers, I shouldered one of life's most unwelcome burdens, a single question even adults struggle with: What do you want to do with your life?
Of course, my peers talked about careers. For them, it was difficult.
For me, difficult was an understatement.
Even private high school didn't prepare me for the struggle of pursuing a major and a career in college.
Homework intensified. The environment grew more competitive.
Dorm room chores at the University of North Texas hounded me.
University life demanded 100 percent of me. I couldn't keep up.
Then the dominos fell.
I stopped believing in myself. Crushed under the academia grind, my grades plummeted. Emotional and physical distance drove a wedge between me and my friends.
With no support and no goals, I buckled.
The diverging demands of adulthood drove me over the edge. Then depression seeped in, numbing my mind and body.
Soon, many of the joys in life melted through my fingers.
I lost my love of learning, my will to work and my aspiration to achieve.
My mindset brewed toxic thoughts: "Please do my work for me. Please solve my problems for me. I beg you."
Soon scenes of suicide shrouded my mind.
I blamed everyone but myself. After my first year of college, I fled in utter shame.
I refused to talk about what happened (and what didn't happen), especially to my parents.
Their stern silence drove daggers into the person I was most disgusted with — me.
I still attended classes for the next few years, but the failing grades continued.
At my parents' behest, I got a part-time job at a nearby golf course.
Unbeknownst to me, this was the first step I took to rebuild myself.
Over time, I came to know the regular customers, the elderly men who would come to fill their time with beer or golf, sometimes simultaneously.
One man supplied me with a simple epiphany.
"It's better to laugh at your problems than cry," he said. "There are times for crying, but laughing at them makes it much easier to solve. Not to mention you're already smiling."
I forged a solid work ethic, but my grades failed to recover.
In spring 2014, my GPA slipped down to 1.4. I was placed on academic probation and suspended for a semester. For nearly a year, I worked to discover what I was missing.
I still needed a goal.
Things started to change one afternoon as I mused with a co-worker about wanting to return to college. It seemed like a pipe dream. She gave me "On Course" by Skip Downing, a textbook that had changed her life.
Following the book, I started a progress journal. In every entry, I would write down my failures, my fears, my hopes and my dreams. I reminded myself what I was fighting for.
If I felt like waning under pressure or succumbing to laziness, I would read my past entries and create a new one.
Equipped with the self-help book, I gave one more try at college in fall 2015.
It was my fourth semester at Eastfield.
I was determined to face one class I failed four times — Composition II.
The mandatory research paper would set the tone for that semester: do or die.
I threw all the spare time I had into the paper, careful not to overwhelm myself. It paid off. I passed that semester, just one letter grade shy of straight A's.
My GPA healed.
Today, I have a 3.46 and am university-bound.
My renewed confidence revived my old dream of being an author. I am torn between two majors: journalism and English.
This semester will help me decide which to pursue after Eastfield. Some of my greatest obstacles are now the springboards to my success.
I want to pick up a second language and experience the world. I am more curious than ever to see how I will grow in the years to come.
If you told me three years ago where I'd be today, I wouldn't have believed you.
In 2014, I considered myself the world's ultimate failure.
Yet here I am on the brink of graduation, and I feel more sure of myself than ever before.