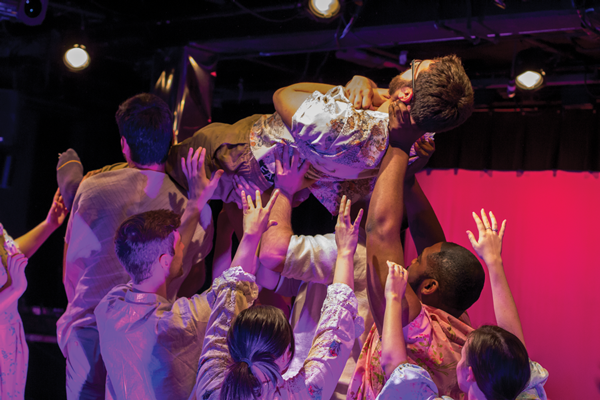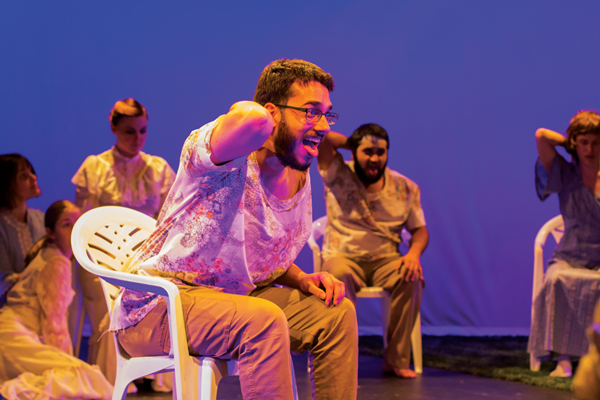 By KATRINA BOND
@KatBondETC
When I walked into the Bath House Cultural Center auditorium, a performer with a powdered face and a dress like a nightgown greeted me like an old friend, shouting "You came!" as she shook me by the shoulders. She then dropped her voice. "Now you can never leave," she said.
It was opening night for Danielle Georgiou Dance Group's "War Flower" is a collaborative project between Georgiou, Justin Lochlear, Lori Honeycutt, Donovan Jones and the members of the dance group.
As I took my seat, Lochlear ran around in a suit, shouting into a megaphone "Five minutes!" Performers milled about onstage, talking, dancing and arbitrarily stacking lawn chairs. It felt like a nightclub, complete with fairy lights on the side of the stage spelled out "The Hive."
All of this was part of the performance.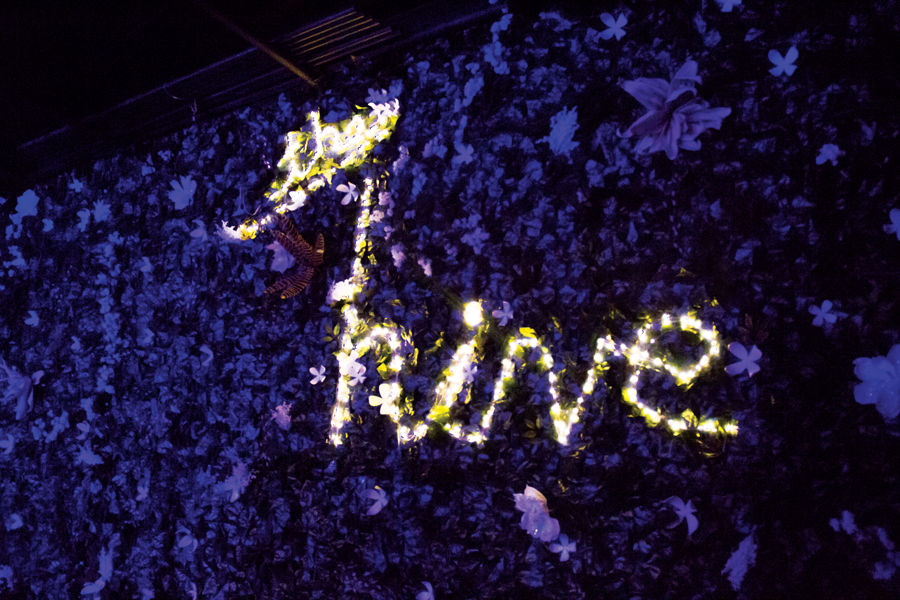 "War Flower" is abstract and strange with no clear plot. It seems to be a collection of miniature stories about characters finding themselves in a world overrun with media.
Because of the ambiguous aspects of the show, Georgiou and Lochlear expect each audience member to have a different experience. Georgiou encourages audience members to take photos and post them on social media to share their own unique interpretations. It may take multiple viewings for audience members to truly understand the concepts and derive their own meaning.
[READ MORE: 'The Yellow Boat' performance lacks real emotion]
The show used many types of multimedia. In the first scene, a sped up and reversed video of the performance we are about to see plays on a screen with shots of bees, lions and people on a sidewalk interrupting every few seconds.
Then, a woman in a long yellow dress straight out of the '30s walks onstage, telling a story of a summer from when she was a teenager. About two lines into the story, another woman, dressed in white and sitting in a lawn chair, begins repeating her lines with different inflections and slightly different wording.
As the show continues, different characters give different monologues, but there was never any real dialogue between characters. This represents the way people interact on social media, because every post itself is a monologue.
Although the show is dance theatre, it is not only dance. "War Flower" is a multi-faceted experience, with the movement, music, script, set and props each playing a unique and integral part to the show.
[READ MORE: Eccentric 'War Flower' combines the talents of area artists, Eastfield professors, students]
The show's use of guttural screaming and animal-like movement made me very uncomfortable. I found myself thinking about my own interpersonal interactions and how I express myself with media, which I wasn't expecting.


One line that particularly affected me was "When I cannot hear myself think for all the bee hum, I am safe." This was delivered multiple times throughout the show, most notably when a performer stood on a lawn chair, explaining what it is to live within "The Hive."
At one point toward the end of the show, everything becomes slow and dream-like, and at this point I found my thoughts reflecting that. Every movement seemed deliberate and heavy. . By the end, I felt as though time was not real, and not just because of the repeated monologues that assert "time is nothing, I am nothing, you are nothing." The choreography and music itself adds to this somewhat unsettling, disconnected feeling.
Overall, this show explores language, culture and ritual in a way that exposes some of the rawest aspects of humanity. I highly recommend that you see it, whether you consider yourself an "artsy" person or not.
"War Flower" will be performed at the Bath House Cultural Center Jan. 26 through Jan. 28 at 8 p.m. Tickets can be purchased at dgdgdancegroup.com.
After the show seemingly concluded, Lochlear reappeared with his suit and megaphone. "23 hours!" he shouted.
https://eastfieldnews.com/2017/01/20/the-founder-uncovers-global-food-chains-troubled-start/