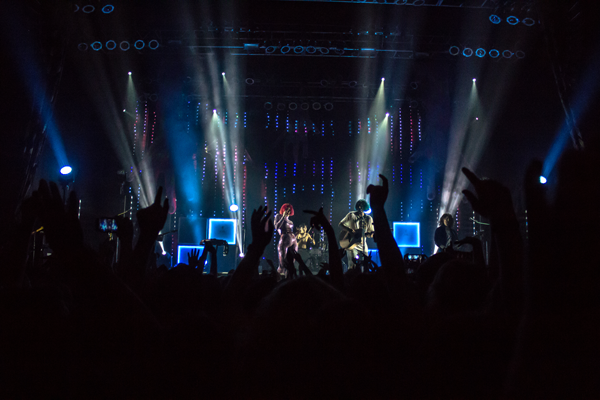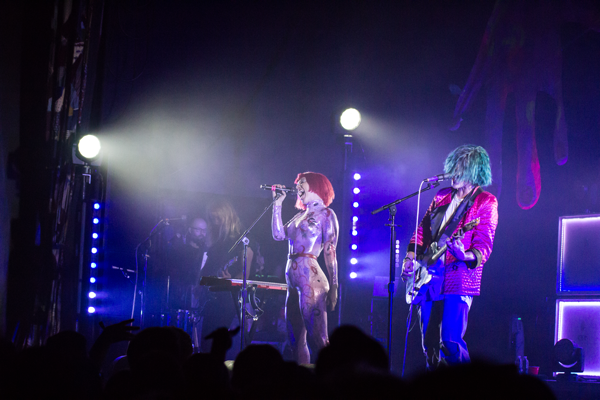 By DAVID SILVA
@DavidSilvaETC
Grouplove brought out a highly energetic setlist for their Dallas fans and accompanied it with a mesmerizing lightshow.
The LA-based indie rock band kicked off the Texas leg of its 2016 tour at a sold out House of Blue on Nov 15. The tour followed the Sept 9 release of the band's third studio album, "Big Mess," which peaked at 40 on the Billboard 200.
The pop band MUNA opened up for Grouplove, kicking things off with dreamy synths and catchy choruses, things synonymous with the headliner.
MUNA's selection was solid, but left much to be desired when they closed their set with the title track of their most recent EP.
There wasn't much anticipation until an MC came in to pump up the crowd.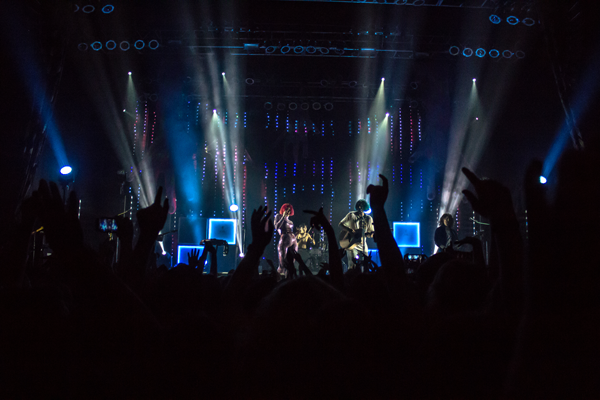 It turns out that the MC, Tyrone Washington, is also the band's tour bus driver.
I stood next to the Washington's wife while he hyped the crowd up with "In Da Club" playing the background.
At first the 50 Cent song seemed out of place at an indie concert. In the end though, it was exactly what the crowd needed to get excited for the main event.
I didn't realize at the time, but that was a perfect embodiment of the type of energy and fun the band is willing to have during their set.
When Grouplove finally took the stage, surrounded by an excessive assortment of lights, their high-energy mix of pop punk riffs and catchy melodies took over everyone in the venue.
Singers Christian Zucconi, sporting blue hair, and Hannah Hooper, rocking red hair, commanded the stage with their offbeat, sometimes-punk, sometimes-pop style.
With a stage dive by the second song, and another during an electrifying cover of the Beastie Boy's "Sabotage," it's safe to say the band was here to have a good time, and the crowd responded.
Every killer guitar solo got a howl from the rockers in the crowd, and a tight bass line kept it all together.
Zucconi's vocals showed some weakness throughout the performance, with some songs not having the polish of their recorder counterparts and him needing auto tune to get through an acoustic version of "Enlighten Me." That being said, his intense guitar chops let him off the hook.
I few times I was taken out of the performance due to the fact that although they have a variety of influences and styles, their best outfit is a punk group, at least when they're live.
The extensive lightshow, the chest-thumping drum kicks and the scrambling guitar riffs had suburban moms with their devil horns in the air, but when they diverged from that, the band lost a bit of its identity, and definitely lost me.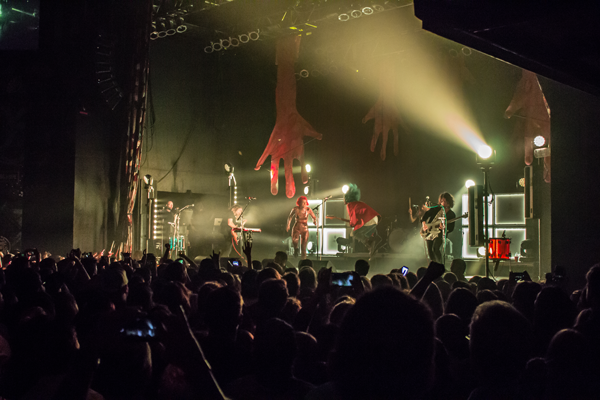 That is, until the lightshow changed colors and the guitar solos started up again.
The band took a risky choice choosing to play "Tongue Tied" in the middle of their set, leaving them with "Colours" as their obvious closer.
I was sure this would doom the performance. By playing your highest charting song right in the middle, you risk more casual fans tuning out.
Fortunately, the band kept up its drive through "Standing in the Sun," "Welcome to Your Life" and all the way to the finale. And by then, a causal fan was nowhere in sight.
Near the end of their set, Zucconi took a moment to thank the packed venue and offered a message of comfort.
"I know right now times are tough," he said, referring to the state of the country. "[But] we have each other."
The audience cheered, the lights faded to black, an electric guitar soon thundered through the roar of the crowd and the band once again gave it their all.
After an extended version of "Colours" left the crowd chanting in unison, the band came together on the stage and took a bow.
It was a unique moment for me, a moment in which I saw a group of friends genuinely enjoying their jam session in front of adoring fans.
Whether that moment happens after every show or whether it was unique to this one, there was no denying the amount of energy and showmanship that Grouplove left on that stage.
https://eastfieldnews.com/2016/11/14/6804/