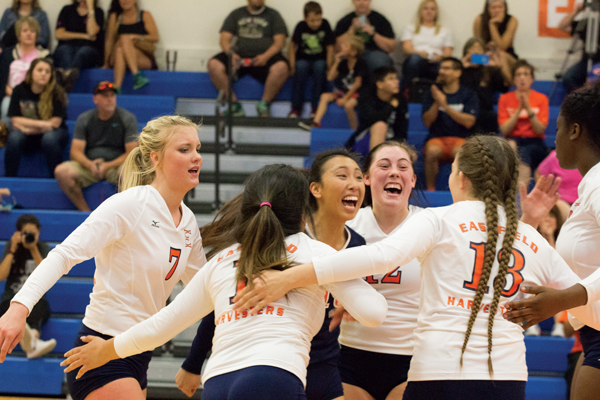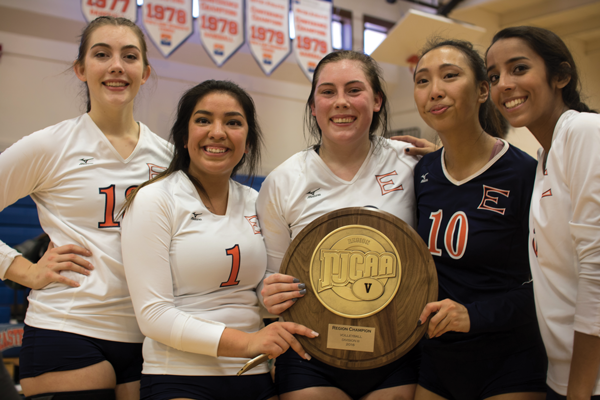 By BRIANNA HARMON
Managing Editor
@BHarmonETC
After falling in the first game of the Metro Athletic Conference Tournament to Brookhaven, Eastfield rallied to win the next two games and go up 2-1 over the Bears.
In the final game, the Harvesters led the entire way, extending their lead to 16-12 over Brookhaven as the team's energy exploded.
At game point, Eastfield held a 24-16 lead and fans rose to their feet held up the No. 1 sign with their fingers.
As the ball hit the ground, outside hitter Cailey Clogston, setter Alyssa Jimenez, and libero Karina Lay leaped in the air and screamed with excitement.
"I am proud of the girls for what they have done and accomplished this year," coach Brandon Crisp said. "We lost the first set, but they didn't crumble and give up. They fought back."
The Harvesters' defeat of conference rival Brookhaven 3-1 came in close games (25-27, 25-15, 25-21, 25-16). Now they advance to the National Junior College Athletic Association Division III National Championship Nov. 11-12 in Rochester, Minnesota.
Eastfield was undefeated in conference play and won the MAC title for the first time since 1994. Brookhaven had won the conference for the previous 12 seasons.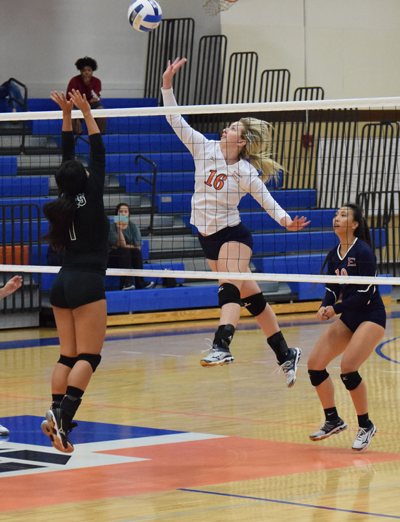 Eastfield's last trip to nationals was in 2013, where they finished sixth.
Throughout the match Crisp talked to the team about playing good defense. Crisp told the girls throughout the game to keep fighting and keep every ball up. Then he began to tell the team to not get ahead of themselves and to focus on the task at hand.
Brookhaven would start out each game with a small lead, but in from the second game on, the Harvesters would pull away in the middle and Brookhaven would be too far behind to catch up.
Lay led the Harvesters defense with 27 digs. Jimenez added 20 digs and Clogston had 16 digs. Jimenez also had 23 assists and Zelda Ortiz had 17.
Courtanae Calhoun led the team with 20 kills, and Kerstin Fredrickson added 13.
Eastfield took complete control of the game; the gym rang with cheering from fans the entire time. After each point scored The Harvesters bench would go wild.
"I'm shaking," Calhoun said. "I have never shook in my life. It's a happy feeling. If we can play just like we played now, we are going to be unstoppable."
Ortiz over the season has developed her own in game ritual. No matter where she is located on the court or bench, when Eastfield scores, you will hear her screams and see her dancing.
"It took every ounce of energy I had in my body to keep my team
motivated," Ortiz said. "Being loud and obnoxious gets to [the opposing team]."
Clogston was impressed with how the team came together after losing the first game.
"We got down a little, but we knew it was do or die," Clogston said. "We were leaning on each other for encouragement to lift us up. We beat our rival. There is no better feeling."
Lay was named Metro Athletic Conference Player of the Week and NJCAA Player of the Week for her performance against Brookhaven.
"It's amazing," Lay said. "We have put so much hard work into this. Every practice was worth this. Brookhaven hasn't lost in forever, so to beat them is a big accomplishment."
Eastfield leads the nation in digs per set with 22.30. The team is ranked third in the nation for kills per set with 11.59 and assists per set with 10.51.
The team talks about playing as a family.
"I showed up today I was extremely nervous," Ortiz said. "I thought about it and said, 'It's for the person next to me, It's not about me anymore. It's gut check time. I'm proud of my team.' We did what we had to do to win."
Crisp doesn't plan to change his approach to get the team ready for the national tournament.
"It business as usual," Crisp said. "It doesn't change. I told the girls today this is nothing new, it's just another day for us. We won't do anything special. We will get back in the gym and practice and work even harder."
Eastfield will play North Hampton Community College at 12:30 p.m. Nov. 11. North Hampton is located in Bethlehem, Pennsylvania. The Spartans are coming into the tournament with a 30-1 record, their only loss being on Sept. 3 to Butler County.
https://eastfieldnews.com/2016/11/09/soccer-relives-last-years-heartbreak-in-tournament/