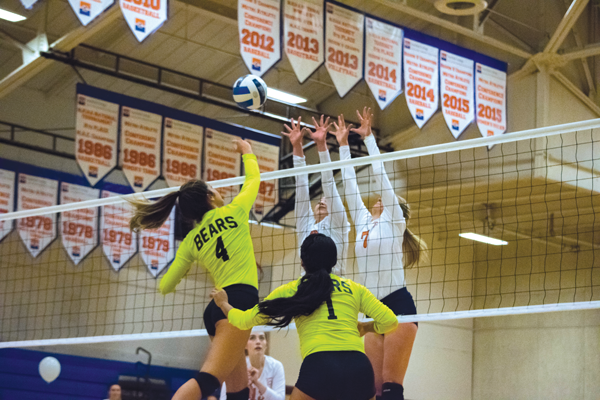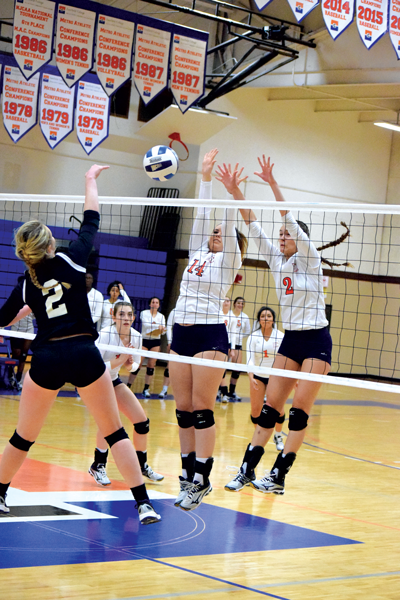 By Brianna Harmon
Managing Editor
@BHarmonETC
The Eastfield volleyball team clinched conference for the first time since 1994 and will host the conference tournament for the first time in school history.
"I've never had a winning season in volleyball," outside hitter Cailey Clogston said. "I've never been undefeated in a season, and to do it with my team is amazing. I love them."
The Harvesters beat Richland College 3-1 (12-25, 25-23, 25-18, 25-11) on Oct. 17 to win conference with two games left in the season. As a team, the Harvesters had 40 kills, 86 digs, six service aces and 6.5 blocks against Richland.
Eastfield defeated Brookhaven for the second time this season to finish conference undefeated. Outside hitter Kersten Fredrickson, who was named Metro Athletic Conference Player of the Week for the week of Oct. 9-15, led the way for the Harvesters.
Fredrickson had 14 kills, 21 digs and 16.5 points in her performance against the Bears. Libero Karina Lay had 37 digs, and setter Zelda Ortiz has 21 assists.
"I feel like my first two sets were pretty good hitting-wise, but I could have done better defensively," Fredrickson said. "But my last set, I did most of the digging. My hits could have been selected better."
Eastfield finished conference No. 4 in the nation with a 10-0 record and 22-4 overall.
[READ MORE: DISC GOLF COURSE WELCOMED BY AVID PLAYERS]
The Harvesters' defense is ranked No. 1 in the nation in digs per set with 21.88, and their offense in ranked No. 6 in the nation with 11.26 kills per set.
During the games, the athletes are constantly yelling and dancing both on the court and from the sidelines, a tactic that seems to work for them.
"This year, we came and did our thing," Ortiz said. "We did what we needed to do. When someone does something good, I'm there like, 'That's good, let's take it and run.' I think it also is having someone on the court to look at to make you feel like you're OK. [Clogston] is the person I look to, so when we are together, let's be loud, let's be obnoxious because it's going to get to [the opposing team]."
Clogston said she and Ortiz are the ones keeping the team focused and ready to go in the game.
"I feel like if we aren't loud, our team plays down," Clogston said. "We are the ones that pump our team up to play better."
The Harvesters have broken and reset the record for Player of the Week awards twice this season for the school and conference.
Lay has won Player of the Week three times, and middle blocker Courtanae Calhoun was named Player of the Week four times during the season.
"I'm very pleased with their performance," coach Brandon Crisp said. "That shows we are doing well and going in the right direction. I'm excited for what they have done and done for the team."
[READ MORE: VOLLEYBALL SEASON ENDS IN 3-0 LOSS TO BROOKHAVEN]
Ortiz said the Harvesters are excited that they won conference, but they won't let it distract them from the conference tournament. The winner of that tournament advances to the national tournament in Rochester, Minnesota.
"It's going to be a mental game once we hit the conference tournament," Ortiz said. "I think once we get to the conference tournament, we can't let anything get to us. We have to dig deeper than we have ever dug before."