Partying up the primaries: Presidential hopefuls jostle for delegates en route to Texas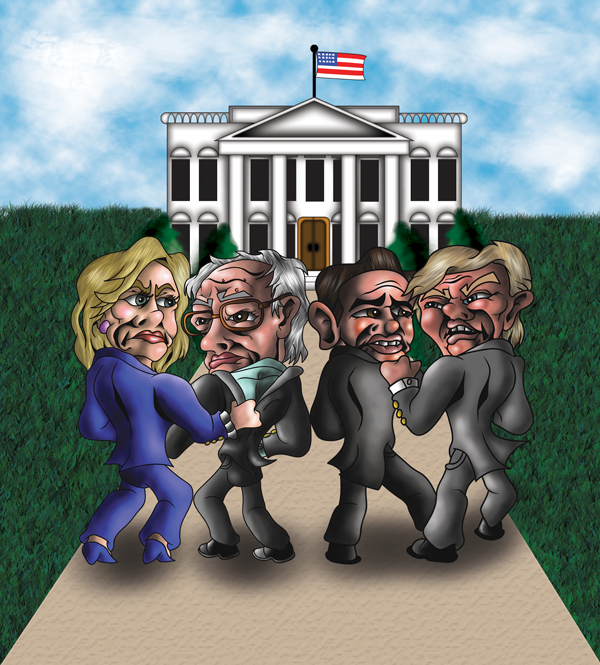 By Parker Ward
Click here read bios of the leading presidential candidates
A still-crowded field of five Republicans and two Democrats remain in the race for the White House as it prepares to pass through Texas on Super Tuesday.
Following the Feb. 20 Republican primary in South Carolina, Jeb Bush, who drew only 7.8 percent of the votes, dropped out.
Remaining Republican contenders include businessman Donald Trump, Florida Sen. Marco Rubio, Texas Sen. Ted Cruz, Ohio Gov. John Kasich and neurosurgeon Ben Carson. Front-runner Trump has won two contests so far, the South Carolina and New Hampshire primaries, and Cruz took first in the Iowa caucuses. Results of Feb. 23 Nevada caucus were not available at press time.
On the Democratic side, former Secretary of State Hillary Clinton has two caucus victories in Nevada and Iowa while Vermont Sen. Bernie Sanders claimed victory in New Hampshire. They face off next Feb. 27 in South Carolina.
Government professor Glynn Newman said it can be difficult to evaluate the candidates when there are so many.
"You can really begin to evaluate a lot easier on two than six," he said. "There are too many variables. It's like statistical analysis. You got to try and weave out the variables that don't matter, but they still are in the sample, so they kind of matter. "
Sixteen states including Texas will vote in primaries on March 1. Early voting is open until Feb. 26.
Texas has open primaries, so voters can vote in either party's election and do not have to register as party members. They can change their party or candidate allegiance in the November general election.
Primaries and caucuses help the political parties in each state choose delegates to represent them at the national conventions over the summer, where presidential nominees will be selected. The parties have 1,779 delegates up for grabs March 1.
Whoever wins the majority of these Super Tuesday primaries is going to have the edge over other candidates, government professor Stacey Jurhree said.
Texas does not normally vote this early in the primaries, but the date was moved up to give the state more sway in the candidate selection process.
Texas also holds power because of its number of delegates, which are based on population. There are 252 Democratic delegates and 155 Republican, which are divided between candidates based on vote percentages.
Though unlikely that one candidate could win them all, government professor Glynn Newman said that winning a large amount in Texas could cause a candidate's campaign to take off.
"Texas this time is the rocket boosters on the space shuttle," Newman said. The Texas delegates "are the ones that thrust you into orbit."
Both professors said they believe Trump will get the Republican nomination. Newman predicts Clinton for the Democratic Party nomination, while Jurhree sees Sanders winning.
While Sanders is leading the popular vote, Clinton has an edge with her 502 delegates compared to Sanders' 70. Clinton has support from superdelegates, comprised mainly of party leaders and elected officials who can choose their candidate.
Newman said that Clinton will still have obstacles to overcome if she wants to win.
"Hillary has baggage," Newman said. "She needs to make her junk profitable. Benghazi is her junk. She has to make her junk look good. She needs to make her junk look like bling-bling."
Jurhree said just one thing could defeat Clinton if she were to win the nomination.
"The only thing I can see beating a Hillary Clinton team is a Donald Trump and Ben Carson team," Jurhree said. "If you have a black conservative on the ticket, it will split the vote."
Computer information technology major Joshua Lemma believes that Sanders has what it takes to be a good president.
"I feel like he's the only one who knows what he's doing," Lemma said. "The other [candidates] are just talk, but he's the real deal."