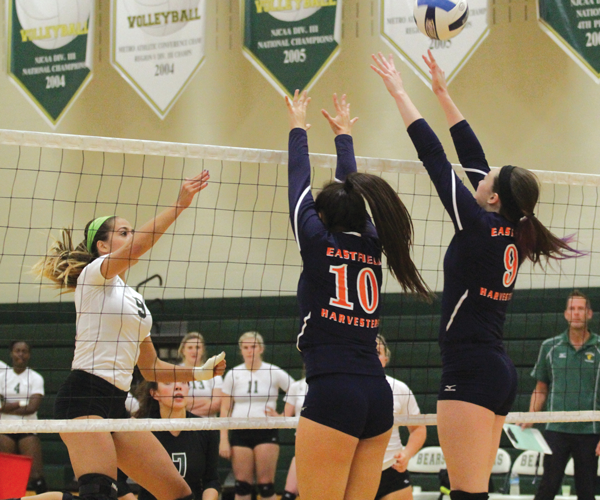 By Brianna Harmon
With the conference tournament quickly approaching, Eastfield volleyball coach Brandon Crisp is confident in his team and ready to see them compete in the postseason.
This is Crisp's first season at Eastfield with a full recruiting class. He believes if his players compete as hard as they have all season, they can play against anyone out there.
"They have been phenomenal defensively," Crisp said. "That is one of our strengths. We can dig up anybody out there. It's hard to find out who our lineup is every day because everyone does play so well."
Eastfield (13-11, 5-3) is currently ranked third in the Metro Athletic Conference standings behind Brookhaven (20-8, 8-0) and North Lake (7-22, 5-2). Brookhaven has won the conference every year since 2004. Eastfield has never won a regular-season conference title.
"We have amazing talent on this team that can beat Brookhaven," libero Mckayla Petters said. "They are cocky … but we have beat teams better than them."
Crisp said the road to nationals will once again go through Brookhaven. Eastfield has played Brookhaven twice this season and lost both matches 3-0. Captain Megan Murphy said the Harvesters have improved since the first time they met.
Eastfield averaged 10.7 points per set last season and is averaging 12.4 this season. One reason for this is that the Harvesters have been more aggressive at the net. Eastfield already has 749 kills this season after posting 700 for the entire 2014 season. The Harvesters are also averaging 21 digs per set compared to 15.4 last season. "There is way more talent," Murphy said. "We are more of a family this year than we were last
year. We have more chemistry on the court." The Harvesters have two matches remaining before the conference tournament. The Harvesters will host Cedar Valley on Oct. 22, then head to Richland on Oct. 26. Eastfield has beaten both Cedar Valley and Richland 3-0 in conference play.
The sophomores are looking to end the season strong when the conference tournament starts on Oct. 28.
"This is my last year playing volleyball," Murphy said. "I just want to end on a good note. I want to put it all on the floor and not looking back anytime."