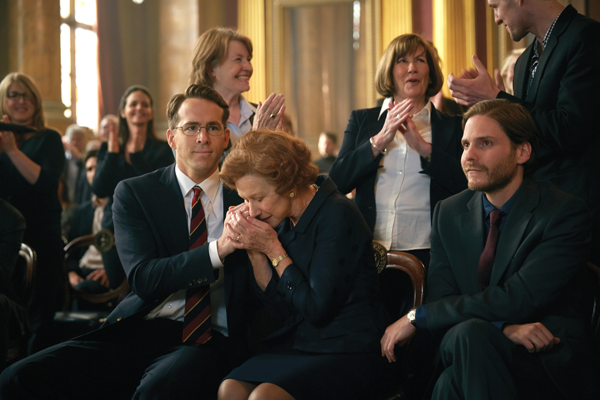 By James Hartley
An estimated 100,000-plus art pieces stolen by the Nazis during World War II have not been returned to their rightful owners. Based on a true story, "Woman in Gold" is an outstanding film that beautifully captures the struggle of one of these victims.
The film follows elderly Holocaust survivor Maria Altmann (Helen Mirren) and her lawyer E. Randol Schoenberg (Ryan Reynolds) as they fight the Austrian government to win back a number of paintings stolen from her family. The disputed works include"Adele Bloch-Bauer I" — a Gustav Klimt painting that used Altmann's aunt as a model and was renamed "Woman in Gold" by the Nazis — a particularly egregious event as not only was the picture stolen, but the identity of it was stripped away to a nameless woman due to the Nazi hatred for Jews.
The film is an outstanding drama that perfectly captures the struggle Jewish people went through during World War II and the residual effects of the horrors committed by the Nazis.
The movie is a painful, timely reminder of the past, as well as a call to action to right the wrongs that are still affecting our fellow human beings today as a result of the second World War.
Mirren and Reynolds are the perfect pair for this film. Their initial negative outlook on life gives the film one of its most important charms of the film, allowing for deep and emotional changes in the characters throughout the plot. We gradually see a softer, more sensitive and determined side of our heroes.
Two scenes in particular stood out. The first was when Schoenberg is overcome with emotion at the Holocaust memorial in Vienna, which creates a ripple effect on his character for the rest of the film and drives him to fight for his cause.
The second scene was more subtle. Throughout the film, Altmann recounts through flashbacks the crimes committed by the Nazi SS during World War II. She swears early on that she will never return to Austria, saying: "Unlike Lot's wife, I never looked back." The breakthrough in her character comes not when she decides to return to Austria, but when the heroes' Austrian friend Hubertus Czernin (Daniel Brühl) reveals something from the past that deeply affects the character development of our heroes.
Through this revelation, Altmann's true character, hidden by a facade, comes to light.
"Woman in Gold" beautifully blends together a true story, deep characters and, despite the heavy weight of the film, a hint of comedy. Scenes such as one where a government employee says, "Austria? My son loves kangaroos!" break from the heavy drama of the story and elicit smiles and laughter from the audience. "Woman in Gold" is a must see drama. It opens April 3.