Life, Illustrated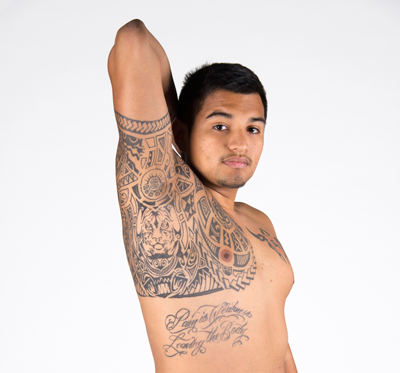 Stories by J. Gomez
Photos by Jonathan Wences
A lost daughter's name. A pirate ship anchoring a woman to sobriety. Father and son lions separated by a rift – and death. The word of God.
These images mark the bodies of Eastfield students and faculty– details of their lives etched into the canvass of their skin. They commemorate transition, triumph, faith, love and loss. Their bodies are their journals.
In this year's common book, "The Illustrated Man," by Ray Bradbury, tattoos on the body of a nomadic character narrate eighteen different stories.
Anthropologist Lars Krutak of the Smithsonian Institution will speak Nov. 20 at Eastfield about the significance of tattoos in cultures around the world.
Dozens of Eastfield students and employees told their tattoo stories to digital media adviser Dave Danforth for a photo exhibit accompanying Krutak's visit.
Here are three of their stories.
The Wild Child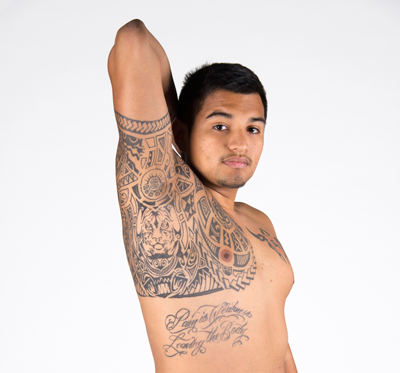 The collection of tattoos on Cosme Gallegos Jr. details the life of a free spirit fueled by constant movement and tempered by experience. Back at Eastfield after two years in the Air Force, Gallegos plans to transfer to the University of North Texas for a bachelor's degree in communications.
Growing up, he often got into trouble. His first tattoo was a cheeky apology to his mother. On the inside of his lip, he branded the words "Kiss Me."
On his ribs are the words "Pain is weakness leaving the body," a phrase he first heard from his wrestling coach, a military veteran, in high school.
"This phrase really stuck with me and got me through some rough times," Gallegos said. "When you're hurting, that's fine. Just let it go. You may be hurting, but you're going to get through it."
Gallegos said his Samoan-style arm tattoo illustrates the distressing moments in his life, pieces of his personality and the importance of family. Seven trapezoids represent car accidents he experienced. Circles signify his family.
"Three circles to represent my mom, sister and dad," he said, "and the fourth circle to represent those who will revolve around me, those who I have yet to meet."
Another set of triangles symbolizes the direction of his life.
"Endless movement, a set of arrows that means to not look back," he said. "Wherever you go, just keep going forward."
The arm piece flows onto Gallegos' chest, depicting a turtle and his astrological sign, Taurus the bull.
"Bulls are sturdy and can be stubborn, family-oriented pack animals," he said. "Like a bull, I am gentle when left alone and don't like to be bothered."
Like the Taurus, the turtle surmises a philosophical belief built into his character.
"I'm like a turtle, I'm relaxed, I am free," he said. "Just take it slow, don't rush into things, and just think about it before you act."
The Faithful Servant
Thomas Small is a Dallas native and criminal justice major in his first semester at Eastfield. When Small is not in school, he serves as a DART police officer. He wants to be a canine officer with the Dallas Police Department.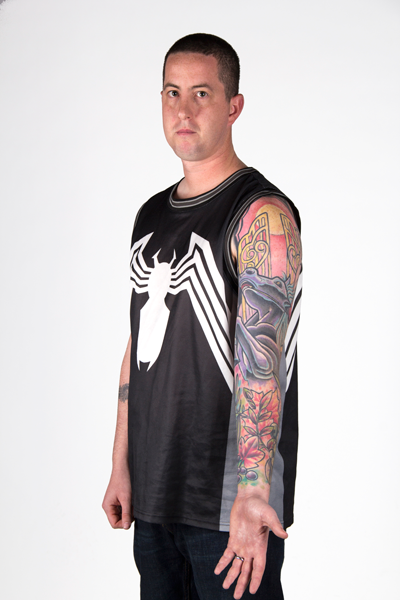 Small had his sleeve — a tattoo or collection of tattoos covering a person from shoulder to wrist — started prior to his second deployment with the Army as a mechanic in Qatar, near the border of Saudi Arabia. His sleeve, the Bible verse Revelation 19, details the second coming of Christ.
"The Bible has been a pretty big part of my life," he said.
Small approached his tattoo artist with the Bible verse, and his artist took the words and painted an ornate, colorful piece of art.
Small said the tattoo captures "Christ coming out of the gates of heaven, riding a white horse and treading the winepress.
"As the end of times nears, he and God will reclaim the world for good," he said.
Small said his faith gave him strength to make it through intense moments in his life.
"I have had several instances where I could have been seriously hurt," he said. "I have chased people with guns, suspects across the highway and God was always there. He has always had me thinking ahead so I won't get myself hurt, reminding me 'Hey, I need to do this,' or 'I need to do that in order to make sure I make it home to my wife safely.'
"God has been that one constant thing that has remained true."
The Cover-up Artist
For most of their history, tattoos have been permanent. Technology makes it easier now for people to change their minds. But some still erase unwanted body art the old-fashioned way — with elaborate and more appealing artwork.

Jessica Ivey, who will earn degrees in business and accounting next month, separated from her second husband about six years ago. In a moment of spontaneity, she decided to tattoo her new boyfriend's name on her shoulder.
"It was fun at the time and the fact that my ex hated it made it icing on the cake," she said.
But when she wanted her former brother-in-law to finish her first tattoo, a Bettie Page on her shoulder, "he refused to finish work on the Bettie Page until I had the name of my boyfriend removed."
On Sept. 25, Ivey's former husband died.
"We were not together, but were legally married still," she said. "We had our first son at 18, then a daughter, and so we were very much still connected. The idea of having another man's name on my shoulder just didn't seem as funny anymore."
She visited a few tattoo shops and every artist suggested she get flowers, which she considered too "girly." Finally, an artist suggested a koi fish.
"I think … tattoos are like a timeline of your life." she said.