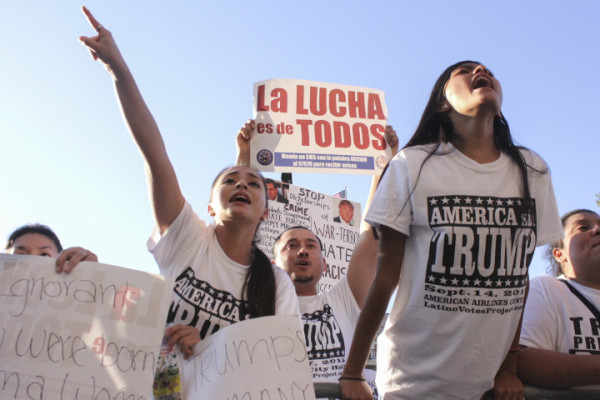 By James Hartley
Hundreds of protesters gathered outside Republican candidate Donald Trump's presidential rally at the American Airlines Center Sept. 14, hoisting signs with phrases such as, "We will not remain silent" and "Do I look like a rapist to you?"
Trump has previously made controversial statements about undocumented immigrants and Hispanics, including his plan to deport all undocumented immigrants and build a "big wall" on the border.
The North Texas League of United Latin American Citizens organized the march and gathered support from other members of the Latino community, meeting at the Cathedral Santuario de Guadalupe before marching to the rally with banners, flags and chants of "dump the Trump."
LULAC District Director Christopher Enriquez said he hopes the protest will encourage other groups to act likewise across the nation.
"I believe that we have to take a stand against [Trump]," he said. "He's been talking a lot of hateful things and that's been destructive to our community, and he has been very divisive.
"We can't just remain silent. When we hear these things, we have to take action. We have to show him that we will protest and, more importantly, we will not vote for him."
The crowd consisted not only of Hispanic protesters, but also white, black, Asian and Middle-Eastern supporters coming together to show their support of the Latin-American community. Joshua Maymar of Dallas was among them.
"He's such a demagogue, and I feel like that's not something that anyone really needs," Maymar said. "He's playing to people's fears and some of us people have told ourselves, 'OK, it's time to get rid of this guy.' "
Eastfield student Michael Heggie, a representative of the Dallas County Democratic Party at the protest, described Trump as a "narcissist."
"He stirs things up," he said. "He's a rabble-rouser. We don't need that type of person in the White House."
Many appeared not just to show their disdain for Trump but to express their support for minority groups.
"We're here to support … all minorities unjustly forgotten about by Donald Trump," LaShadion Anthony, a leader in the Black Lives Matter movement, said. "We are the working class. If the working class took off, who's going to run this country?"