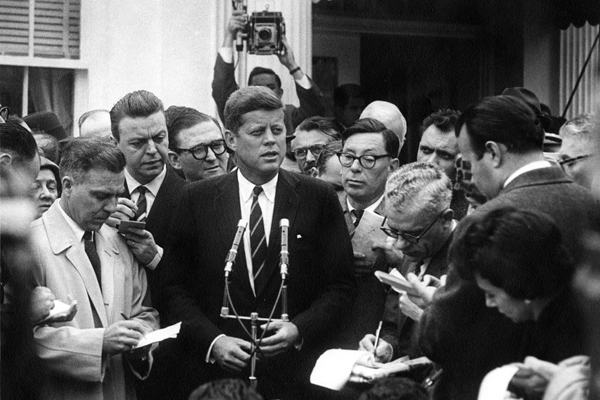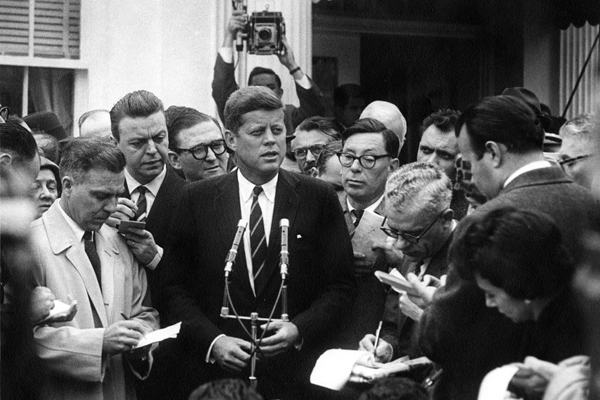 By Justin David Tate, Life & Arts Editor
Laura Jarnagin has waited almost two hours on a crowded downtown Dallas sidewalk for this moment. Finally, she sees the police escorts heading her way.
She jumps into the air, screaming at the top of her lungs.
"The president is coming! He's coming! Look, he's coming!"
Behind her, onlookers stretch their necks to get a glimpse of the motorcade. Fathers lift their sons onto their shoulders to give them a better look at history.
Soon, President John F. Kennedy and First Lady Jacqueline Kennedy pass by, waving and smiling at the enthusiastic crowd. Laura notices that they look just like they do on TV, only in color — perfect hair and all.
It's all over in a matter of seconds. Then Linda's mother drives the still-giddy sixth-graders to Oates Plaza Pharmacy to eat lunch before heading back to Gaston Junior High for a pep rally.
The diner is filled with the aroma of cheeseburgers and fries. A live broadcast covering the president's visit is playing through the intercom.
The girls sit down to eat, but can't stop screeching to anyone who will listen about how they just saw the president. The jovial play-by-play is suddenly interrupted by a news report.
"The President has been shot!"
Laura later learned that the president had been killed. When she returned to school, her classmates had not yet heard about the assassination.
"I was upset. I was crying," she said. "They were like, 'What's wrong with you? I said, 'The president has been shot.' And they were like, 'No!'"
Fifty years later, Jarnagin is a receptionist in the president's office at Eastfield College, located less than 20 minutes away from where Kennedy was shot and killed on November 22, 1963.
It was a moment that impacted an entire generation, including many current and past Eastfield employees, who still vividly recall the day that Dallas was labeled the City of Hate.
Did Dallas kill the president?
Don Baynham's lunch in the storage room at work began with Wayne Newton and Frank Sinatra crooning in the background and ended with the radio announcement that the president has been shot.
As he rode the bus home to East Dallas that day, the 18-year-old maintenance worker asked himself the same questions many other city residents were asking themselves.
"Could we have done something different?" he wondered. "Is it our fault?"
It was the first time Baynham had ever spent more than a few fleeting moments considering the president.
He had seen the flyers from the likes of Republican Rep. Bruce Alger that said "Wanted for Treason" with Kennedy's face crossed out. He read about anti-Kennedy groups in the newspaper. But he saw them as nothing more than a minority of extremists.
The newspapers wrote about them, he figured, because they made enough noise to be noticeable. In the aftermath of the assassination, that noise became deafening.
"Back then, I think really the feeling was, 'Oh those crazy idiots,' and you'd chuckle about it," Baynham said. "After you experience [an assassination], you don't chuckle about them anymore."
The next year, Baynham dropped out of college to join the Army. He tried to escape the city, which he diagnosed with clinical depression.
Everyone spoke in hushed tones, whispering rumors of a Russian or Cuban attack, the inevitable war that would follow and possible attempts on the life of newly sworn-in President Lyndon B. Johnson.
"For a time, it just didn't seem like people were smiling or laughing or telling jokes or anything," Baynham said. "It was really just a massively terrible thing to have happen anywhere, much less where you live."
Police excel under pressure
David MacDonald had always wanted to be a police officer. At age 20, he became one — for one night a month.
The future Dallas detective and Eastfield criminal justice instructor began his career as a reserve officer one Saturday a month helping out at the jails, transporting prisoners, patrolling and assisting more experienced officers.
He repaired televisions for Curtis Mathes, a television manufacturer in Garland. He was at lunch when he noticed a group of Cuban coworkers whose hands were moving quickly. Their voices raised several octaves higher and they spoke considerably faster. Some of their eyebrows furrowed as if they were trying to comprehend something.
MacDonald's Spanish was not good enough to understand them, but he could tell something wasn't right. When he turned on the radio later that day, he realized what had happened.
Though he was deeply affected by the assassination, MacDonald was impressed by the fast, professional response of the Dallas Police Department, something he believes is overlooked when talking about that fateful weekend.
MacDonald praised Dallas police, especially Carl Day, a physical evidence lieutenant he later worked with after being promoted to detective in October of 1967.
"Carl Day found a fingerprint that belonged to Oswald on the rifle," MacDonald said. "That, to me, put the icing on the cake."
MacDonald said everything about the investigation, including suspected shooter Lee Harvey Oswald's apprehension, was excellent. MacDonald helped transport Oswald the night of Nov. 23 from jail to the interrogation room.
Reporters from around the world converged upon the jail. They fired away with questions, targeting anyone with a badge, including MacDonald, who had little knowledge of the details at the time.
MacDonald could tell Chief Jesse Curry was under intense pressure. News headlines focused on Dallas' role in the assassination.
"In some ways, they tried to make Dallas the fall guy," MacDonald said.
Mistake gives city a black eye
On the afternoon of Sunday, Nov. 24, Jerry Henson was driving his beige and cream Chevrolet Bel Air to Wichita Falls, where he was planning to deliver a sermon at the 40-member Charlie Baptist Church.
The 24-year-old graduate student didn't mind the drive. Gas was 20 cents per gallon near the Southwestern Baptist Seminary in Fort Worth, where he studied religion.
A local radio broadcast broke the news that would alter Henson's sermon that day.
"In retrospect, it's kind of dumb that nobody anticipated that [Oswald] might be killed," Henson said. "The way he was transferred from city jail to county jail just left the field open for somebody to come in and shoot him."
Well-known nightclub owner Jack Ruby had walked up to Oswald as he was being transported and shot him in the stomach, killing the suspected shooter before he ever went to trial.
The city leaders put pressure on Curry to do something that would send a message that Dallas had complete control over the situation.
"Let the whole nation see he's been arrested and he's going to be in jail. He will be tried and probably executed," Henson said. "Of course that didn't happen."
Curry gave the go-ahead to transfer Oswald in broad daylight from the city jail to the more secure and heavily guarded county jail. Oswald never made it.
The presidential assassination, Oswald's arrest and Ruby's shooting had all occurred within 48 hours.
Henson conducted the church service as usual that day until it came time to preach. He announced that Oswald had been shot, scrapped his sermon and invited an open discussion about recent events.
"No city wants to advertise that it's had a president killed in its town, but until that point, I don't think people were blaming the city, particularly police, for the assassination," Henson said. "You think about it, wherever the president goes, there's a huge crowd, big buildings, lots of hiding places. A person with a deer rifle can get awfully close to the president without being seen in a big city with a big crowd and lots of strangers. But getting Oswald killed was just poor practice and poor judgment."
Dallas begins to lose hope
Cynthia Taylor, now a registered nurse and director of the Eastfield Health Center, was 10 years old when Kennedy was assassinated. She saw the tears of her teachers while listening to the news on the radio in the cafeteria of J.J. Rhodes Elementary.
But she would not begin to understand the full gravity of the situation until she came home to her father — a vocal supporter of the president.
"He was very, very heartbroken," Taylor said. "I can't say that he lost hope because he lived years beyond that. It wasn't enough to take him down, but it was a stain on the city. And that's how a lot of us looked at it."
Taylor's father was an auto mechanic who never had a formal education. He instantly connected with Kennedy, who spoke in a simple, easy-to-understand way, and he watched all of the president's televised speeches.
"My home has always been a home of news," Taylor said. "My dad would read the paper and then watch the news, so I was brought up that way. It wasn't like U-Verse now, where you can take it and move it everywhere. We had one room, one TV. That was the norm."
Taylor believed the Kennedys were more than just politicians. She saw them as celebrities, as king and queen. She found President Kennedy's youth and Jackie's beauty and fashion sense appealing in grade school, even if she didn't always follow the politics.
"We had so much hope in them, and they were kind of majestic," Taylor said. "Every time you'd hear something about the Kennedy clan, you'd stop and look at the news to hear what they had to say because they were our family. The Kennedys were our royalty."
Dallas moves on
In the wake of the assassination, Dallas businessmen and community leaders felt the need to move forward and rebuild the city's reputation. The anti-Kennedy groups that had paraded the streets before the shooting began to lose steam.
"It caused an enormous amount of soul-searching," Baynham said. "It began a period of intolerance for that kind of hatred and venom-spewing."
In 1964, John Erik Jonsson was elected as mayor of Dallas. The Texas Instruments co-founder pushed for education reform and new business deals. He steered the public conversation away from potentially volatile arguments between conservatives and liberals.
"We were confronted with the results of that kind of hate speech," Henson said. "When you dehumanize somebody because of political beliefs and that person is killed, you have to ask, 'How much did my hate speech contribute to that? Is that what I intended?'"
Baynham returned from serving four years in the Air Force in 1970 to find the city far different than the one he remembered as a teenager.
Buildings were taller, and more colleges had sprouted up, including El Centro, Mountain View and Eastfield.
Baynham joined the Eastfield staff in 1970, eventually becoming associate vice president.
Everything seemed bigger, brighter, bolder.
Jobs and opportunity seemed like possibilities again.
Eventually, presidents returned to Dallas. In 1984, Ronald Reagan was here for the Republican National Convention.
MacDonald was assigned to work as a Secret Service agent for the event.
"I think a lot of that there, 20 years after the assassination, was a feather in our hat," he said.
Dallas was moving on and helping the world understand that just because a president was killed here didn't mean the city was to blame.
"People gradually came to the conclusion that it could've happened anywhere," Baynham said. "It could still happen anywhere today. The Boston Marathon [bombing] happened in Boston, but it could've been somewhere else. Those crazy people are out there. So people began to realize it's not something intrinsically to do with Dallas. If Oswald had lived somewhere else, he would have tried it somewhere else."