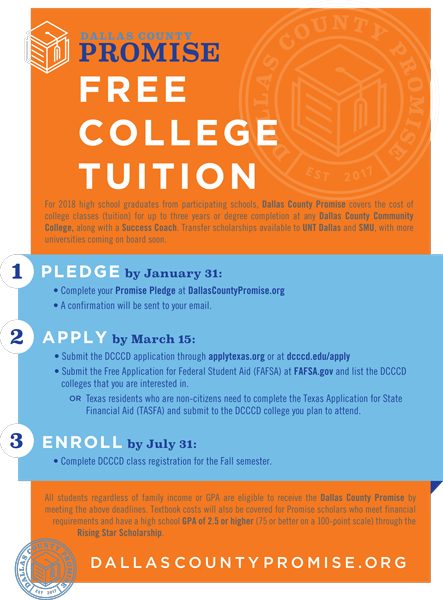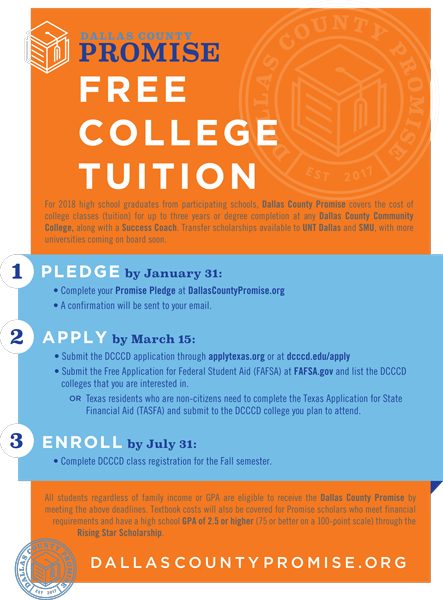 The Dallas County Promise, an extension of the Rising Star scholarship, looks to provide free college tuition for Dallas County seniors of select high schools.
The Dallas County Community College District will offer students from 31 area high schools free tuition for up to three years to complete a their degree at any DCCCD school.
The Dallas Promise is also paired with existing partnerships between DCCCD and the University of Texas at Dallas and Southern Methodist University. Through the Dallas Promise, students will be given the opportunity to apply for transfer scholarships to UNT Dallas and SMU.
High school seniors at eligible schools must complete sign a "Promise Pledge" by Jan. 31, 2018. They then need to complete an ApplyTX or DCCCD admissions application and submit FAFSA/TASFA forms, listing their DCCCD college of choice, by March 15, 2018.
Once accepted, student must enroll at a DCCCD college and complete registration by July 31, 2018 and maintain a 2.0 GPA and complete at least 18 credit hours each academic year to continue to receive tuition benefits.
All students are eligible for the Dallas Promise scholarship regardless of family income or GPA.
Textbooks costs can also be covered for scholarship recepients if they met financial requirements and have a high school GPA of 2.5 or higher through Rising Star.
"We know that the greatest barrier to college completion is cost," chancellor Joe May said in a press release. "With the support of our partners, we will create more affordable pathways to college completion, which also will align with the needs of the North Texas workforce. It's a game-changer for students, businesses and the communities we serve that will transform lives."
— Compiled by David Silva
High schools participating in the program:
Adamson
Bryan Adams
Carter
Cedar Hill
Cedar Hill Collegiate
Conrad
Desoto
Early College HS at Brookhaven
Grand Prairie
Hillcrest
Gilliam Collegiate Academy
Kimball
Lakeview Centennial
Lancaster
Lassiter Early College
Lincoln
Madison
Molina
North Dallas
Pinkston
Roosevelt
Samuell
Seagoville
South Grand Prairie
South Oak Cliff
Spruce
Sunset
Thomas Jefferson
Trini Garza Echs at Mountain View
Wilmer-Hutchins
W.T. White