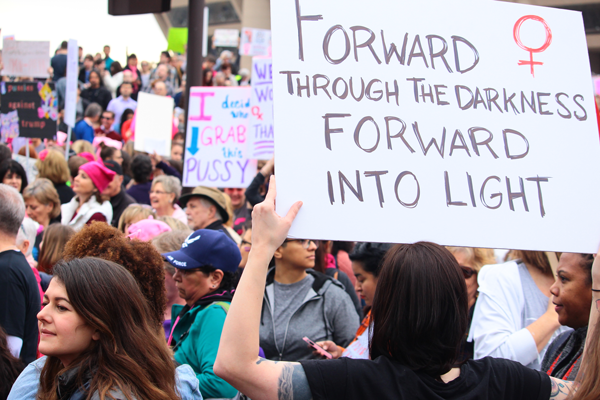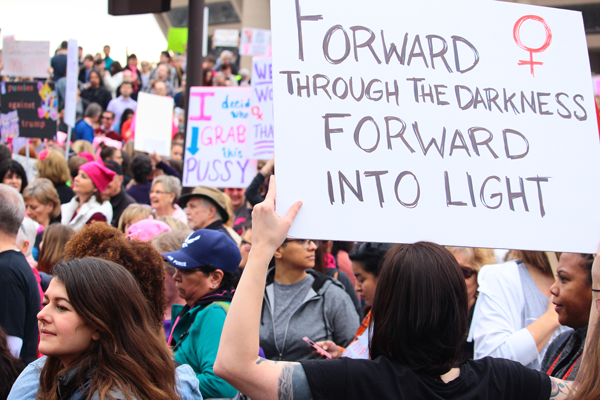 With signs and chants, millions of people took to the streets at women's marches across the globe to protest some of President Donald Trump's policies a day after his inauguration.
The Jan. 21 Women's March on Washington expanded from a single gathering in the capital to events worldwide.
"By the time we got to Washington on the actual day of the protest, the lines into the metro station were so great, we waited about 20 minutes until we could find a train we could fit on," journalism professor Joanna Cattanach said.
A march was held in at least one city in every state, including Washington D.C., Dallas, Los Angeles and Chicago. Los Angeles had the largest turnout, about 750,000 people, while Washington drew about 500,000.
"I remember seeing a picture of Trump's inauguration the day before, and I knew I was standing in places where I saw no one had been the day before," journalism professor Joanna Cattanach said. "That's when I knew it was getting very big."
Protests in other countries were also met with large crowds. About 60,000 protestors attended the Toronto Women's March, and about 100,000 attended the London march.
The Women's March on Washington was organized by a group of civil rights activists and sponsored by organizations such as Planned Parenthood, National Abortion and Reproductive Rights Action League Pro Choice America, the American Civil Liberties Union and others.
Although called a "women's march," the protest was also in support of LGBT rights, worker's rights, civil rights and immigrant rights.
[READ MORE: Society reminded of Big Brother amid tumultuous political climate]
Celebrities such as America Ferrera and Madonna, activists, professors and the mothers of African-American men shot by police officers gave speeches at the Washington rally.
Sens. Elizabeth Warren and Bernie Sanders attended marches in Massachusetts and Vermont, respectively,  addressed issues such as equal pay, health care and the environment
In Dallas, state Rep. Victoria Neave hosted a march for those who would not be able to travel to Washington or Austin for the official Texas march. More than 5,000 people walked about 2 miles from City Hall to the CWA Hall on Washington Avenue waving signs and chanting slogans such as "This is what democracy looks like."
Wearing a U.S. Navy hat, a "Black Lives Matter" T-Shirt and colorful shoelaces, 65-year-old teacher Albert Woolum said he had several reasons to be at the Dallas march.
"I've got two daughters, one of whom is lesbian," he said. "I am the first man to complete a minor in women's studies from San Diego University. I am a Black Lives Matter activist. I am a veteran, and my wife is Native American."
Some attended because they were personally affected by the policies of Trump's administration, while others came for support.
"If we stay silent, nothing is going to change," homemaker Susan Christensen, 54, said.
[READ MORE: Immigration ban sparks impromptu protests]
Former Eastfield student and immigration rights activist Maria Yolisma Garcia attended the march to represent the voices of black, immigrant and transgender women, whom she said are often "silenced."
"It breaks my heart that undocumented women don't have access to anything," Garcia said.
In Austin, about 50,000  flooded streets around the Texas Capitol.
"The diversity makes you feel really good," said English professor Sabine Winter, who attended the Austin march. "Seeing that we all can come together is really nice."
Cattanach stressed that the marches were not a one-time event but the beginning of a larger resistance to Trump's policies.
"We aren't the snowflakes that [Trump's] dismissive of," she said. "Nobody at that moment thought that was a lark on a weekend. Everybody that I know who was involved has been joining groups since the election. The march was just our big coming out."
Click any photo to view the slideshow: