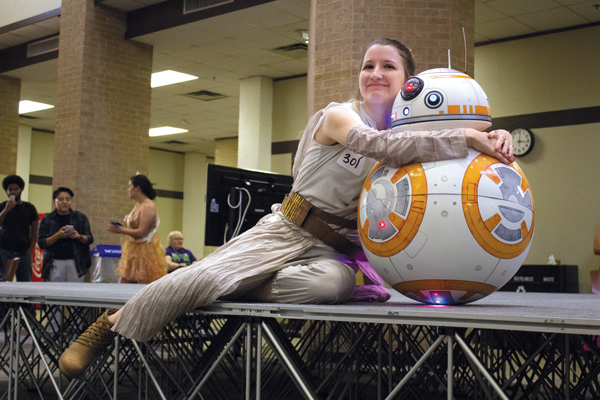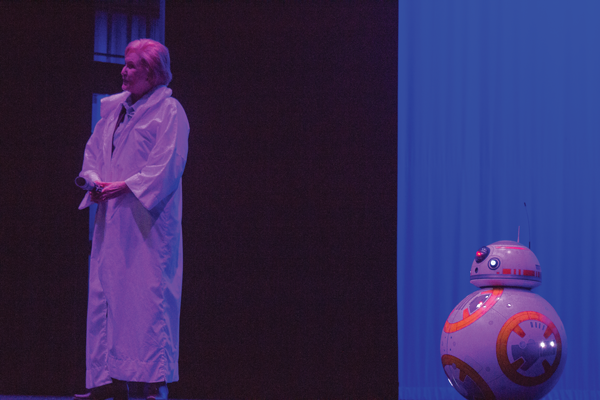 Computer science professor David Kirk isn't the type to shy away from his passion for robotics and love of "Star Wars."
"I've made all seven 'Star Wars' movies on opening night starting in 1977," he said.
Kirk said he's excited to see "Rogue One" in theaters Dec.16 and is glad that his most recent robotic creation has meshed his two passions together. Kirk has built a remote-controlled, fully functioning BB-8 droid, equipped with lights and signature BB-8 sounds from "Star Wars Episode VII: The Force Awakens."
Kirk first unveiled the homemade droid at the campus' convocation for faculty and staff in August. Since then, his BB-8 has made appearances at several campus events.
[READ MORE: Common book events explore diverse themes, engage students]
"Everyone just huddles around [at events]," he said. "It's something you don't see every day, so it definitely draws the crowd."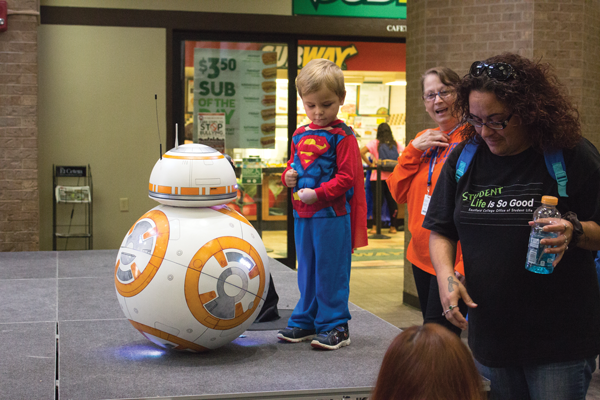 Kirk said he found out about the BB-8 Builders Club website, a blog devoted to building life-like versions of the beloved droid.
The website is an offshoot of the R2-D2 Builders Club following the release of the original "Star Wars" film in 1977.
Both sites include blog posts of builders' progress as well as various resources to help create your own droid.
"You have to spend a lot of time just studying here on the Builders Club," he said. "Trying to see what other people are doing [and] posting, reading everyone else's build logs and trying to figure out what you want to try to do."
Soon after he discovered the website, he was told that the campus was thinking of having a "Star Wars"-themed convocation.
"I was like, 'Man, I should try and build this thing,' and I went to the first meeting, Dr. Conway's there and I had some of the 3D-printed parts for the dome," he said. "I raised my hand and said, 'Well, if y'all do, I'm going to start printing these parts. I'm going to build a BB-8.' "
Before then, Kirk had been indecisive about building the droid.
[READ MORE: 'Red Pegasus' is a one-stop shop for endless comics]
Kirk said his first robot, which he named the Kirkatron, was far less complicated than his BB-8.
"It's basically just a computer screen that rolls around with big speakers," he said.
Once he had committed to the project, he realized how much time and effort the droid was going to demand.
"It was so hard," he said. "I was stressing about eight months just trying to get anything to work. It's just trial and error. By far the hardest thing I've ever built."
Despite the time and money spent on the droid, Kirk is happy with his commitment to the project.
"I want to inspire students to build cool stuff," he said. "I think it's the first one in Dallas, according to the Builders Club."
Kirk said he might begin work on a R2-D2 droid in the future, but for now, he's just enjoying and improving his BB-8.
"It's fun," he said. "I can use it at events up here. Put hats on him. I'm going to get him a Santa Claus hat. I got him a witch hat for Halloween."