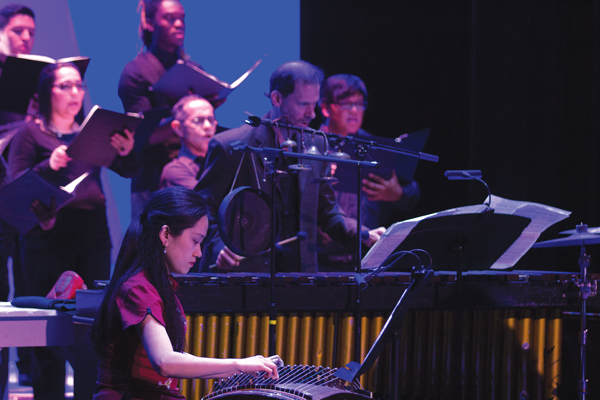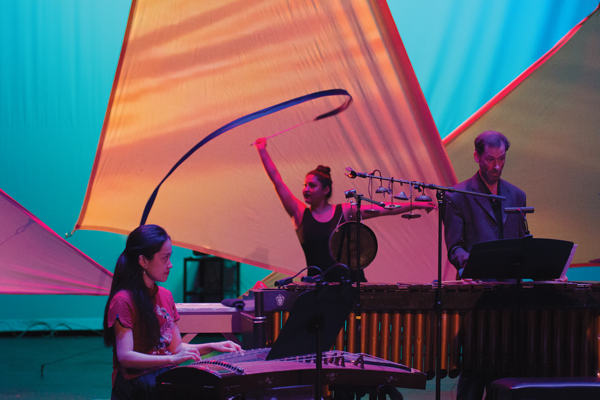 By JON AGUIRRE
Staff Writer
@TheEtCetera
Foreign instruments litter an empty stage.
Soft pink lights illuminate the background behind three large white sheets resemblship sails.
A trio of musicians takes the stage, later joined by members of the Eastfield Chorus and Dance Company and the Women's Chorus of Dallas.
What follows is a performance combining instruments, voices, dancers, set and video projections three years in the making.
The Orchid Ensemble was originally an all-female trio that played traditional Chinese music. The ensemble was founded in Vancouver by Lan Tung in 1997.
Jonathan Bernard joined in 1999, replacing the previous percussionist, and brought other regional influences to the band.
The Ensemble had a three-day residency Oct. 24-26 and performed two shows with student artists on the final day.
[READ MORE: Discover comic books, old soundtrack vinyls at East Fork Mall]
When Melinda Imthurn, music professor and artistic director of the Women's Chorus, first heard The Orchid Ensemble, she knew she had to bring them to Eastfield.
Imthurn and the ensemble members worked for three years to plan the visit.
"When you're in a band, you have to constantly plan for the future," Tung said.
Tung plays the erhu, or Chinese violin, and Xiaomei Zhu plays the zheng, or Chinese zither. With Bernard on percussion, the trio plays a variety of musical styles including
traditional and contemporary music of China, jazz and creative improvisation.
Part of their artistic mission involves cultural exchange between Western and Asian musicians.
"I believe the most important thing to pay attention to in this performance is the mood and emotions that come from each instrument," said social science major Zeke Issacs,
who attended the Oct. 26 matinee.
[READ MORE: Brown redefines 'Atrocity' in latest album]
Imthurn funded the Orchid Ensemble's three-day residency through the Takis Mouzenidis Endowment Fund, a grant awarded annually to one college in the Dallas County
Community College District to pay for performances from guest artists.
During the visit, the ensemble worked with faculty, staff and students to coordinate a performance. Imthurn led the chorus, and dance professor Danielle Georgiou was in charge of the choreography.
Technical theater coordinator Lori Honeycutt was the technical director, and website coordinator Preston Cooper directed the video design.
Cooper oversaw digital media students, who designed video for the performance. The video was projected onto three large sails behind the ensemble. Dancers performed behind the sails to project their shadows on the sheets.
Both the Eastfield Chorus and the Women's Chorus learned songs in Mandarin and Taiwanese.
"There are standard languages that singers know how to sing in: English, Latin, Italian, French, German, Spanish," Imthurn said. "It was nuts. We must've rehearsed one piece for an hour solid on" the first day.
The collaboration was demanding for Georgiou and her dancers as well.
"It was a challenge to figure out the rhythms and tempos because they are very irregular," Georgiou said. "The [student] dancers have not worked with live musicians before."
Gamer Zone: 'Battlefield 1' revisits horrors of first World War