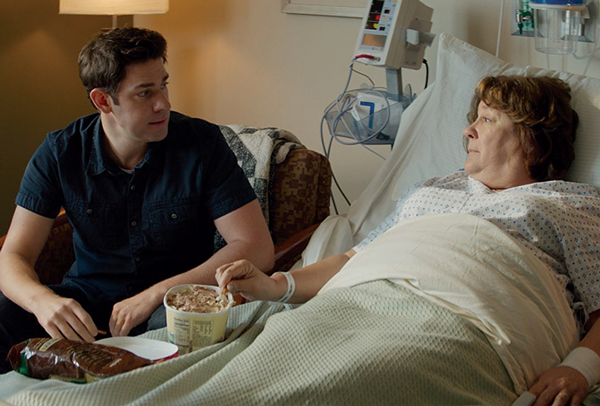 John Krasinski stars in and directs "The Hollars," a humorous family drama that follows struggling cartoonist John Hollar (Krasinski) living in New York City with his pregnant girlfriend Rebecca (Anna Kendrick). When his mother (Margo Martindale) suffers a stroke, ends up in the hospital, and is diagnosed with a brain tumor; he returns home to his dysfunctional family.
His father's (Richard Jenkins) business is almost bankrupt. His elder brother (Sharlto Copley), who worked for their father, was fired. His mother's nurse (Charlie Day) is married to his old high school girlfriend. To top it all off, his mother's tumor is the size of a softball.
The film is full of drama and yet surprisingly empty of overly serious scenes. The few scenes that are solemn do not last long before they are lightened by a joke. This makes for a funny movie, at first, but it quickly gets old.
The writer's repetitive use of making light of serious moments strips away most of the emotional depth the movie might have had. These scenes try too hard to get a laugh out of the audience, and it makes an otherwise sentimental movie less profound. They try to force the audience to laugh away grim realities of brain tumors instead of relying on their actors to make these scenes meaningful and genuine.
The actors really made the film. Martindale saved some of the sentiment of the film by beautifully portraying a woman at the later stages of her life, facing a difficult surgery and the possibility of losing her family. It seems like Martindale was given the majority of the emotional parts of the film and some of the best laughs as well.
The main fault of the movie lies with the writers for trying to make the film overly humorous. Thankfully the actors continually make you laugh, and are the saving grace of the movie. Overall the movie is funny and thoughtful, if slightly cliché.
[READ NEXT: Wilder's classic 'Wonka' showcases legend's talent]