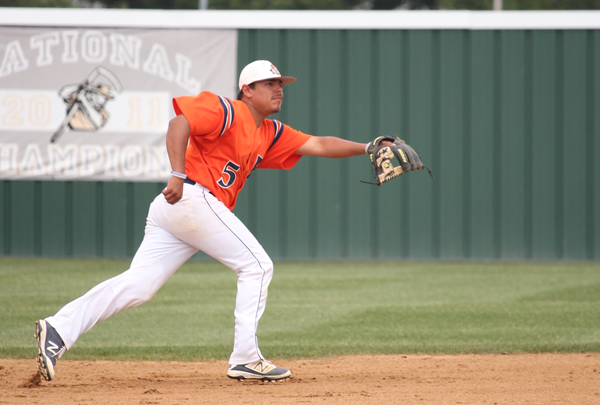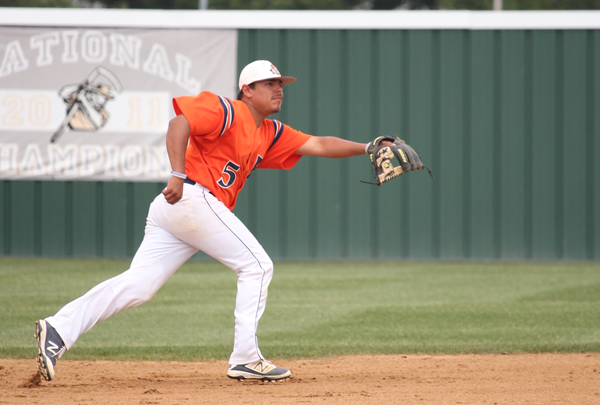 By Brianna Harmon
Gabriel "Cookie" Gonzalez almost gave up baseball due to his ambivalence toward school.
But after a heart-to-heart with Texas Rangers pitcher Shawn Tolleson, Gonzalez found the motivation to get back in school and play baseball.
"He told me that I have to push myself through it," Gonzalez said. "It made me think about it. I knew that if I wanted to play that I had to go to school.
"It was a good conversation. It was my goal in high school to play at a Division I school, but I went to a Division III. He told me that not everybody starts off big and gets straight to the big leagues."
Gonzalez works as a groundskeeper for the Texas Rangers as he pursues an Associate of Science while playing baseball at Eastfield.
Gonzalez started out in the warehouse, filling food orders for the concession stands before moving up to his current position. As a groundskeeper, he sets up batting practice for the Rangers and interacts with the players.
"It's crazy working here," he said. "At first you go to the games and you're just there just dreaming that you want to play there and then I ended up working there. It's nothing I can explain. It's a good experience."
In time, Gonzalez formed a relationship with the athletes.
"I went down there to start working and [the other groundskeepers] started introducing me to the players and other teams," Gonzalez said. "I started knowing everyone and was cool with them. They would let me shag batting practice [collecting balls]. They give me lots of equipment."
Gonzalez has batting gloves from Rougned Odor, Alex Rios and Leonys Martin.
He also has bats from Odor, Adrian Beltre, Elvis Andrus, Martin and David Murphy.
"I ended up giving some of them away because I started to see [the players] every day," Gonzalez said. "But when I first got them, I thought, 'I'm never getting rid of these.' But I gave them to someone who really wants and needs them. I gave them away to people because they don't have the opportunity I have."
Gonzalez says that when he receives equipment takes him back to when he was younger.
"I felt like, 'What did I do to deserve this?' " Gonzalez said. "It brought the little kid back in me. Being on the field is the same thing you imagine being on a MLB field every day."
Eastfield baseball coach Michael Martin said Gonzalez has a great opportunity on his hands.
"We look forward to him getting back down there around those guys," Martin said. "I think nothing but positive things come out of it."
Gonzalez signed with Cedar Valley in 2013 but was redshirted. He then decided it was not where he wanted to be, so he stopped playing baseball and going to school.
After the talk with Tolleson, Gonzalez contacted multiple coaches, but no one would sign him. He then decided he was going to play in a college showcase tournament with hopes of being signed.
Gonzalez now plays second base for the Harvesters.
Martin said he is one of the best defenders on the field.
"He anchors down the infield while he is out there," said Martin. "He does a really good job for us."
Teammate Trey Stone said Gonzales always has a smile on his face.
"He's just Cookie," Stone said. "He could make an error and he is still smiling. I like how he is always in good spirit."
Last fall, Gonzalez was given the nickname "Cookie" from assistant coach Travis Graves.
During a double-header against Paris Junior College, he was sitting on the bench munching away Chips Ahoy chocolate chip cookies.
Gonzalez never thought the nickname would last, but when the team returned from winter break everyone had jumped on the bandwagon.
"I didn't think it was going to stick," he said. "I at least have a big bag of Chips Ahoy a week. I eat a lot of cookies. Cookies and milk are just so good. I always have something to eat. It's kind of like a superstition. I feel weird when I don't have something to eat during a game."