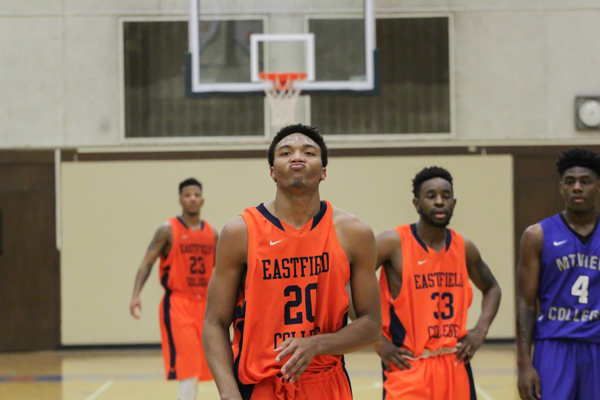 By Gabriel Flores
Sophomore guard Tre Anderson was the catalyst for the Eastfield Harvesters basketball team's success this season, especially during the second half.
For his efforts, he was selected as a National Junior College Athletic Association First-Team All-American and earned an invitation to play in the NJCAA All-Star game, which was held April 30 in Las Vegas.
The 6-foot-4-inch Anderson is arguably one of the most versatile players in the country.
He finished the season as the Harvesters' leading rebounder, averaging nine per game, and second-leading scorer with 15 points per game. He also led the team defensively with 1.2 blocks per game and was second in steals with 1.6.
Head coach Anthony Fletcher utilized Anderson's skill set throughout the season.
"There were times where he was our leading scorer and there were times where he was our go-to defender," Fletcher said. "He played everything from the two to the five in our system. He's even had to defend point guards."
Anderson said he models his game after another versatile player: Hall of Fame forward and six-time NBA champion Scottie Pippen of the Chicago Bulls.
In the Harvesters' locker room, there is a quote that reads, "The hardest part about a team is learning your role." For Anderson, it isn't that difficult.
"Your role is to be on the team and win," he said. "That's your only role. Your role is not to go out and be the best defender. That's your goal every day. My only motive is to win."
Anderson's coaches and teammates admire his personality and intelligence.
"He's funny off the court," guard Ed Williams said. "On the court, he shows no emotions. On the court, he's straight-faced. You can't tell what Tre is thinking until he opens his mouth. There's some crazy stuff that comes out of his mouth."
Fletcher describes Anderson's off-the-court demeanor as "worldly."
"He reads a lot," Fletcher said. "He gains knowledge through reading and he reads different types of things. When you do that, you begin to get different experiences."
Anderson said he was surprised to be selected to play in the all-star game.
"I kind of felt like I wasn't supposed to get the nomination," he said. "I thought Ed was supposed to get it, honestly."
Anderson values family and a positive atmosphere, which were among the reasons he chose to transfer to Eastfield from Our Lady of the Lake University.
He said that will also factor into his decision about where he plays basketball next season.
Although he credits others for his success, Anderson believes it can have a positive impact on those closest to him, including his younger brother Jonathan.
"It makes me feel like I can't slack now," he said. "Jon Jon wants to be like me, so I've got to show him what it takes to get to the places where I've been and not make some of the mistakes [others have] made."