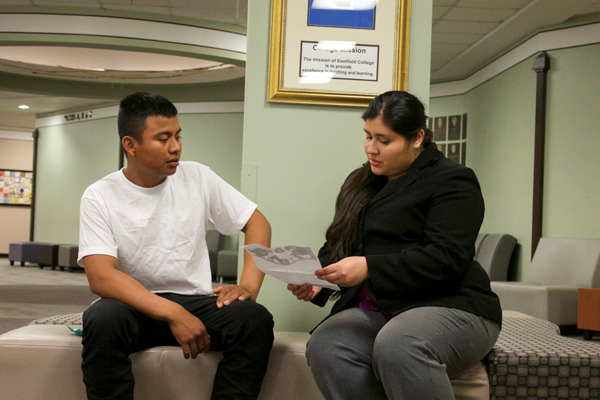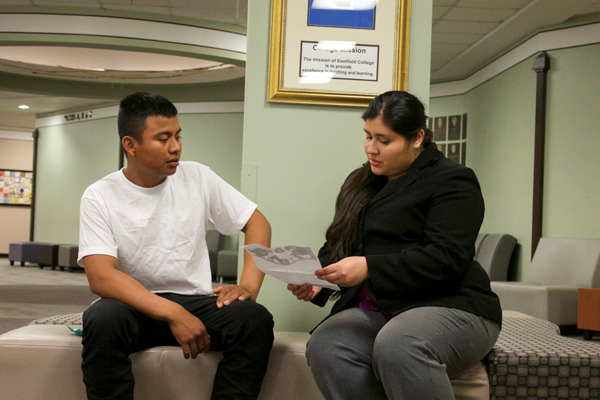 By David Silva
Alejandra Salcedo competes every day.
While everyone competes with everyone else, she pushes herself to exceed previously accomplished goals. She has done this ever since she was young.
Salcedo, named Student Leader of the Year last month, is the Communication Club president, the HarveSTARS president, a Student Government Association representative, a campus ambassador, a Phi Theta Kappa member and an Office of Student Engagement and Retention employee.
Every single day she competes to be a better version of the person she was yesterday.
"My normal day starts at 8 in the morning, and I don't leave until about 6," Salcedo said. "I go to class, I do homework here, I help students, I have meetings, activities, volunteering."
Even though she is constantly pushing the person in front of the mirror, she doesn't singularly worry about herself.
She plans to become a lawyer because she wants to give "a voice to the voiceless."
"I'd like to think that I made a difference in [people's lives]," Salcedo said. "I like for them to know that they can come to me with family problems, anything, and I'm willing to help."
Even though those around Salcedo consider her a consistently confident and versatile leader, she does have days where she questions her workload.
She finds reassurance and support from her mom.
"There's times where you question why you're even going to school, you question the existence of life, and you question if you'll reap your benefits with everything you're doing," Salcedo said. "She'll tell me, 'It's all worth it. Just keep studying, keep pushing through it. Because you'll get your degrees, you'll get what you need, and you will be successful.' "
Salcedo wasn't always as involved on campus as she is now.
She said that when she began her academic career at Eastfield, her mentality was to go to class and then go home.
That was until she met speech professor Mary Forrest, who invited her to the Communication Club meetings.
"She was in my 1311 class, and she was kind of introverted at that time," Forrest said. "But she had a fabulous voice. It's very kind, but it's also a confident voice. I saw potential in her leadership abilities, so I encouraged her to be the best she could be, and she listened."
After that, Salcedo became increasingly involved.
"She has done amazing things here at Eastfield College," Forrest said. "She's what I call a service leader because she's constantly trying to serve and to be the best she can be."
Forrest admires Salcedo's growth as a leader, especially as the president of the Communication Club.
"She's smart, but she works very disciplined," Forrest said. "She's confident. She's comfortable in front of an audience, and she's always enthusiastic [and] authentic. She has patience. She's very kind. But she lets them know that she expects them to do their best [and] she synergizes the group."
Salcedo also interns for the City of Mesquite. She is City Council member Jeff Casper's social media intern. She posts city events and local activities.
When Casper ran for City Council and Salcedo asked to get involved, he did not hesitate to make her a part of the team.
"I knew her talent, ability [and] character while she was taking [my] government class," Casper said. "I saw the opportunity to bring in a rare talent and a hard worker."
Those around Salcedo have seen talent in her from the start.
They believe she is deserving of the Student Leader of the Year award and has a bright future ahead of her.
"I think she's in a place where she will do it on her own," Forrest said. "We at Eastfield College have given her a little bit of help, a little bit of a boost. We've made it possible for her to do these things by making the opportunity, but now she'll fly."