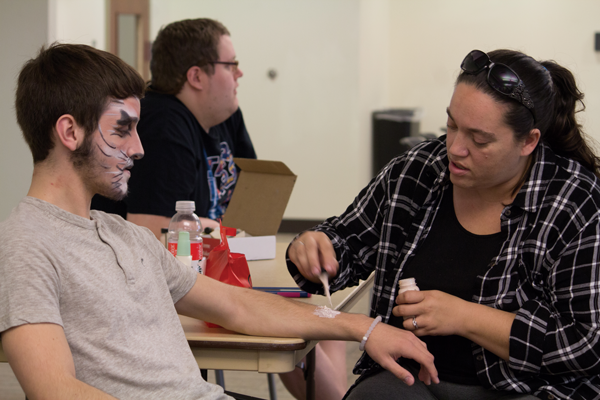 By Jasmine Oliva
Applying theatrical makeup is a lot like learning how to "contour like a Kardashian," drama program coordinator Dusty Reasons-Thomas said.
An art form in its own right, stage makeup is heavily reliant on highlights, shadows and overall precision. Reasons-Thomas showcased stage makeup's role in theater by demonstrating her skill on student models at an April workshop during the Literary & Fine Arts Festival.
Using a variety of products, she recreated a look from the musical "Cats" and freestyled a look of her own.
Reasons-Thomas used foundations and setting sprays often found in common cosmetic stores but also used products exclusively available at theater costume stores or online. She used makeup application techniques with brush strokes usually found in studio art classes.
"Something I like about doing makeup is that everybody's face is different," she said. "I love the face and body as a blank canvas and recreating new characters on actors."
Reasons-Thomas said her interest in theater started early while growing up in Missouri. Participating in productions from junior high onward led her to study acting in college.
She said having a career in theater seemed like a "natural progression."
"I have been working professionally in theater for over 14 years," she said. "I started performing in professional shows while in college and have worked nearly every aspect since then."
The first paying job Reasons-Thomas ever had in theater was for a small theater company's public relations department.
Pursuing acting in college and graduate school, Reasons-Thomas was encouraged to take classes in all aspects of theater.
"When you're a theater major and especially as an actor, you don't just take acting classes," she said. "You learn makeup, theater tech, how to build sets … a little bit of everything."
In her sixth year teaching at Eastfield, Reasons-Thomas says she always works to instill the importance of learning other skills in her students. Art major Victor DeTerra has applied this lesson, most recently during Eastfield's production of "Harvester Cabaret." DeTerra was an actor in the production and says he attempted to do his own makeup in the fast-paced musical theater environment. The art of stage makeup is not always a time-consuming job, he said.
"If we have 10 minutes to get onstage, it'll probably take about five minutes," DeTerra said.
Stage makeup student Tanya Uhrich helped DeTerra apply his makeup for the show as well. Uhrich enrolled in the makeup course after her dissatisfaction looking for professional face painters.
"I just started doing it for my kid's birthday parties and then other people started asking me to do it for theirs," she said. "I took this class because I thought it would teach me some techniques and further my skill."
Reasons-Thomas said the midday class, which teaches students how to create bruises and burns out of makeup, is a great way to "freak people out" all while broadening one's horizons.
"It's good to be diversified because actors don't typically make a lot of money," she said. "But we don't do it for the money, we do it because we love it."