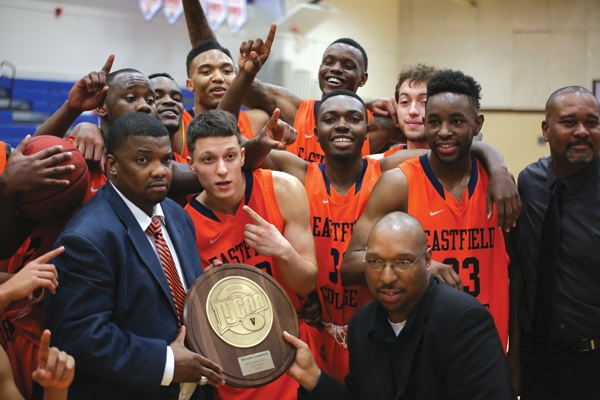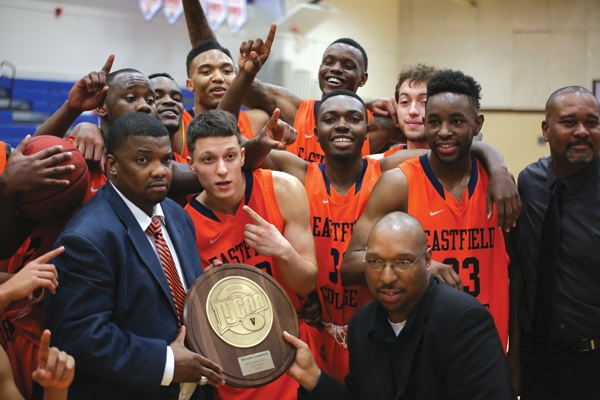 Eastfield won the Metro Athletic Conference tournament with an 83-68 win over North Lake on Feb. 20, which advanced them to the National Junior College Athletic Association Division III championship tournament in Loch Sheldrake, New York. This will be the third appearance in four years for the Harvesters.
Et Cetera sports editor Brianna Harmon is traveling with the team. They departed early March 8. Eastfield's first game is 4 p.m. Thursday, March 10.
Watch the tournament live at njcaatv.com.
Follow Harmon's updates at The Et Cetera Sports blog and on Twitter (@theetcetera).
Duncan overcomes injury, helps boost Harvesters to nationals
By Brianna Harmon
After losing Tevin Corprew, the nation's leading scorer, to academic issues after the fall semester, the Eastfield Harvesters' hopes of earning a trip to New York for the national tournament looked slim.
Then they lost key reserve Din Androk to a knee injury.
But the team's goals never changed.
"I told [the players] the first day of school that we have enough to win a national championship in this room," coach Anthony Fletcher said. "And after we lost some guys, I told them we still have enough to win it."
Sure enough, several players stepped up to fill the void, including shooting guard Zack Duncan. The 6-foot-6 freshman went from playing less than 10 minutes per game during the first half of the season to more than 20 in the final eight games, and his scoring average soared to 18 points a game.
Duncan is shooting 54 percent from the field, including 48 percent from the 3-point line, and is a big reason Eastfield is back at the national tournament for the third time in the past four seasons.
In the Harvesters' 98-71 win over Brookhaven on Feb. 6, Duncan drained seven 3-pointers, added 10 rebounds and finished with 27 points.
"He went crazy," shooting guard Donald McBride said. "That was a fun game for all of us."
But if it weren't for Duncan's high school trainer, he might never have continued to play basketball.
Early in his senior season at Denton Guyer, Duncan drove for a layup in a game against Hebron and landed awkwardly on his knee.
He felt a pop and fell to the ground screaming. He had torn his ACL and would be out for months.
With help from physical trainer, Kathy Cox, Duncan went through rigorous therapy to rehabilitate his knee. He came back from the injury in six months instead of nine.
"I thought about if I was ever going to play again a lot," said Duncan, who also broke his elbow during his junior season. "Without my parents and trainer, I probably would have quit."
This season, when Duncan stepped onto the court for the first time since his injury, he was hesitant to give it his all for fear of injuring himself again.
With the encouragement of friends and family, Duncan has overcome his fears.
Shooting guard Tre Anderson is Duncan's best friend and has helped push Duncan in practice and games.
"When Zack is on the court, I'm all for him," Anderson said. "I basically want him to do everything. I want Zack to get that rebound. I want him to make a 3-pointer. If he makes a three, I'm about to get live. I get a lot of energy from him."
Duncan and Anderson were brought together by basketball, but they also have a lot in common off the court.
"Zack is like my brother," Anderson said. "Over time, we grew closer and closer. We are together 98 percent of the time. When we go up to New York, they aren't going to expect him [to be as good as he is]. This is his first year back, and he is already making noise in the nation."
Anderson can relate to Duncan's injury fears. After undergoing back surgery during his freshman season, he also thought his basketball career was over.
"I didn't touch a basketball for a long time," he said. "I wasn't going to play basketball anymore. I was done. But when I got back in the gym, I got a lot stronger than I was before. I thought all I could do was keep my faith and work hard and be relentless. Play without fear."
Anderson noticed at the beginning of the season that Duncan was uneasy when making certain movements
"I told him, 'You just have play,'" Anderson said. "As long as you play hard, you won't mess anything up. It's when you take time off that you mess things up. You can't just ease around it. You've got to go hard."
Duncan's late-season surge has boosted his confidence. In the last eight games, he scored 144 of his 227 total points, helping the Harvesters' overcome Androk's season-ending injury. He even earned third-team All-Metro Conference honors.
"He isn't babying his injury anymore," Fletcher said. "We thought he would be a starter for us, but he didn't play very physical [at the beginning of the season], and he lost his spot. The great thing is that he hung in there. When Din got injured, he took his spot and he flourished. The guy barely missed a shot."
Duncan said he no longer worries about reinjuring his knee. Now he is making plays and sacrificing his body without hesitation.
"When he starts to dive or slide on the floor, I get excited because he is buying in," Fletcher said.
Duncan has bought in so much that he had to get stitches after being hit in the face in the Region V championship game.
He said his teammates' support keeps him going.
"They are over here telling me that 'we need you,' and they push me," he said. "They help me stay successful. It gets me hyped every time."
Duncan is pursuing a degree in kinesiology and hopes to be a physical therapist.
"After my physical therapist helped me get back, I want to make that impact on people," he said. "She will always have an impact on my life."