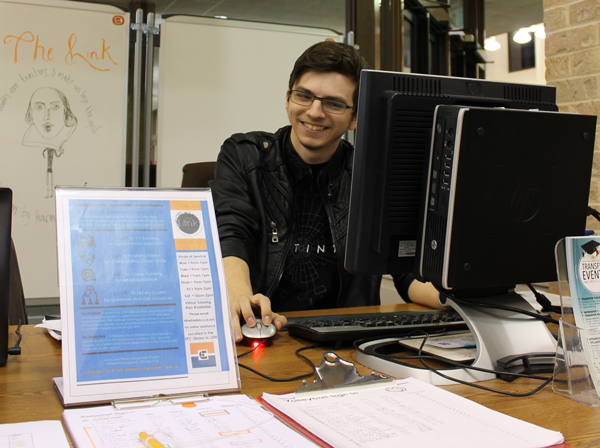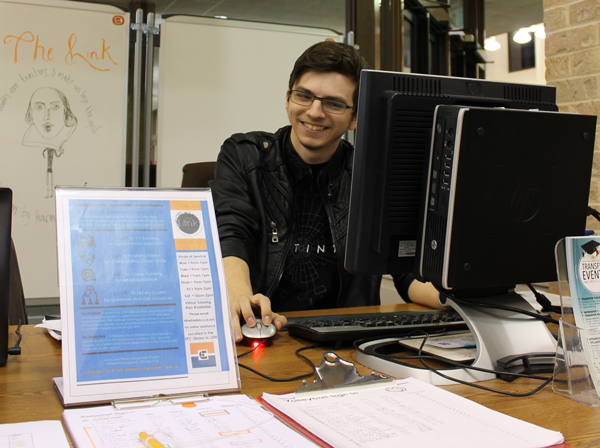 By Karina Dunn and Victor Martinez
An unstable home forced Keaton "Shae" Johnston into a search for self-awareness at an early age. He remembers little about the specifics of his parents' divorce or the events that preceded it. Yet the sudden rift in his family triggered the personal journey that would unlock his future.
"The first thing I can actually remember, I was being torn away from my house by the cops," he said. "I spent the night at the police station. That was a big dramatic event for me as a child."
Over time, biology major Johnston realized that taking control of his own life would be the only way to free himself from the cycle of negativity and depression his family found itself in.
"I took it upon myself to see the other side of things, and I kind of grew from it and used it as a motivator to push me forward and not fail where they did," he said.
The divorce sparked years of moving around Texas. His mother, who had lost her job, moved them from Rowlett to Royce City, where she found employment.
"Royce was one of my favorite places," Johnston said. "It's where I made a lot of friends."
He would graduate as salutatorian from Royce City High School. However, constant moves took him, his mother and his brother to Houston, Princeton and Wylie in the interim. At times, the family was homeless, drifting between the homes of relatives.
He says the travels gave him "a viewpoint that most people don't get."
Johnston tries to be accepting of other people's stories and backgrounds. He feels a connection to people who end up taking the uncommon road to life's milestones. He said that he feels like a "minority" here at Eastfield because of what feels like an uncommon past.
He believes this open mindset helps at his job tutoring students in The Link.
Johnston, a first-generation college student, holds a 4.0 GPA . He stumbled into his job at The Link after one of his professors, Judith Dumont, decided to mentor him and guide him through his freshman year.
"Judith Dumont is my complete opposite," Johnston said.
The difference in their personalities unnerved him at first, but one of the assignments he completed for Dumont's EDUC 1300 class gave him a chance to break into his next level of personal achievement.
"We had to give up something that was holding us back," he said. "I gave up my past. I was so fixated on my past that it was holding me back. I was depressed almost all the time."
The two of them shared more conversations about life, him explaining his background and Dumont offering advice.
"He came alive [during his presentation] in a way I hadn't seen before," Dumont said. "When I decide to mentor someone, I take it seriously."
She helped Johnston, who she refers to by his middle name, Shae, find a scholarship, a previous obstacle in his academic plan.
Finances prevented him from attending his first choice school, Baylor University, during his college search. He was accepted but could not afford the tuition even with scholarships.
While looking at foundation websites, Dumont noticed the Erin Tierney Kramp Encouragement Endowed Scholarship. She found it a day before the deadline and gave the application to Johnston.
He applied to the Kramp and another scholarship within 24 hours, received an interview and won the former.
"The day of his interview, there were only seven people being interviewed," Dumont said. "I drove him down. The only thing I did was hand him an opportunity. … I handed that scholarship to two people that day. The other applicant didn't fill it out. Shae took the time to stay up late one night and bust it out.
"I know he's going make a difference in the world and to be a part of his journey is my … absolute privilege."
Nick Vera, Johnson's former speech professor, wrote a letter of recommendation for the scholarship. He thinks Johnson is just tapping into his capabilities.
"Shae is well on his way to realizing his potential," Vera said. "His story is not yet written. He's in the middle of writing it. I'm just so proud of him."
The scholarship provided Johnston with enough security to enjoy his work tutoring students and complete his coursework at Eastfield. He wants to continue helping others as he moves forward.
"If I found someone who needed my help and I thought that I could help them, and they were willing to take my advice, I would mentor them," Johnston said. "Even if they weren't willing, if I had to force it so to speak, I'd be willing to … persistently show them that there is more possibility than what they can see."
He credits his desire to serve others with his relationship to his younger brother, Trystan, who looks up to him.
During middle school, their mother moved the family from Royce City to Houston and, newly employed, married the man who would become their stepfather. They soon learned that his stepfather was abusive.
Giving his brother a good role model helped Johnston learn what it means to lead through example and friendship.
"A lot of [wanting to be a mentor] comes from that," he said. "I realized how much I had an effect on him. If I could somehow guide someone else, I'd be more than willing to."
Even while living with family, Johnston said they tried not to "overstay [their] welcome." The family was able to settle down after his mother found a job.
This time coincides with Johnston's epiphany that he needed to control his own life. He had a phoenix engraved on his class ring when he graduated high school.
"It represents that even when I've fallen, I can get back up," Johnston said.
Johnston is currently commuting 30 minutes back and forth from his home in Royce City to Eastfield. He received a full ride scholarship to Southern Methodist University for next year. He plans to attend medical school and become an anesthesiologist.
"I see [Eastfield] as a stepping stone," he said. "You can't ascend without the stairs, right?"