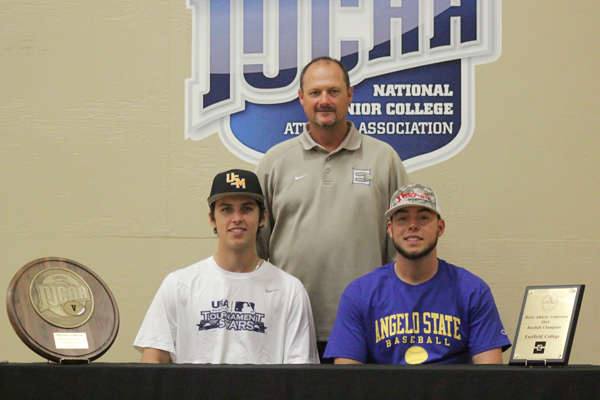 By Brianna Harmon
Fewer than 11 of every 100 college baseball players make it to the show.
But a pair of Harvester baseball players — shortstop Casey Maack and pitcher Blake Barr — have received scholarships to play at the next level.
Maack and Barr will play one last season for the Harvesters before transferring. Martin is excited for his athletes and the doors that have been opened for them.
"I'm proud of both of them, having the opportunities that they do to continue their education at quality schools," Coach Michael Martin. "I wish them all the luck and success moving forward."
Maack received a scholarship to Southern Mississippi University. Southern Miss finished their season with a 36-8-1 overall record last season.
"You grow up dreaming about what you want to do and this was always my dream," Maack said. "Just knowing I can go out and chase it everyday keeps me motivated."
Barr received a scholarship to Angelo State University. Angelo finished their season with a 42-18 overall record and a 21-14 conference record.
Coach Michael Martin said that Barr is the anchor of his pitching staff.
Barr finished the season last year second in the nation in strikeouts — 99 — and third in the nation with 13.10 strikeouts per game. Barr had a 2.78 earned run average.
Barr received his scholarship offer during a visit to Angelo State.
"It was the greatest baseball feeling I have ever felt in my life," he said.
As soon as he walked out of the office, he called his mom, Kim Barr.
His father, Brett Barr, remembers back to when Blake was a small child and they would play catch together.
"We always had a ball to throw," Brett Barr said. "As early as I can remember that he could pick one up he wanted to throw. We played catch when he was real young."
Martin said Maack is the premiere offensive player on the team.
Maack batted .441 and led the nation with 12 homers last season and also finished fourth in the nation with 59 RBIs to earn National Junior College Athletic Association Division III First-Team All-American.
Maack comes from a long line of baseball players. His father, Mike Maack, had a baseball career that lasted 30 years. His father also was a pitching coach at the University of Tennessee and the University of Central Florida, and head coach at Tennessee Tech University.
Maack's grandfather, Glenn Rowdon, was an infielder for the New York Yankees. His uncle, Wade Rowdon, was a utility infielder for the Cincinnati Reds, Chicago Cubs and Baltimore Orioles.
Mike Maack coached his son while he was in high school at Prestonwood Christian Academy. They agree that one on their favorite memories playing together was in the Regional Championship game in the playoffs.
Casey had struck out three times already in the game and he walked up to the plate for what could be his last at bat of the game. The game was tied 2-2 in the bottom of the 10th. The pitcher threw Casey a fastball, and he knocked it out of the park to get Prestonwood Christian Academy the 5-2 win, which advanced them to state.
"It was just one of those priceless moments as a dad and as a coach," Mike Maack said. "I'm coaching third base, we are in a tight game, he is struggling, and to come up and hit the home run is a memory I will have all my life. When he hit it I knew it was out of the ballpark."