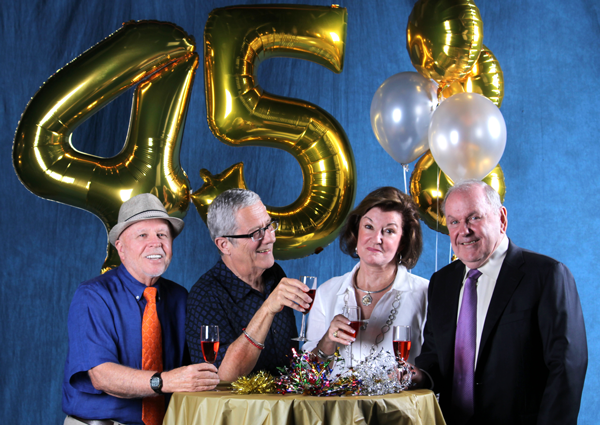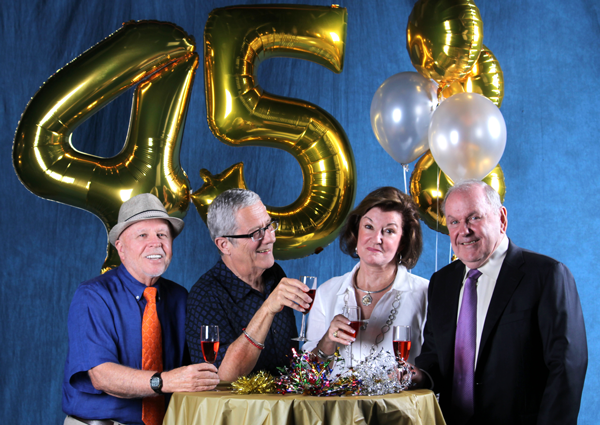 By Andrea Carrizales
In 1970 the Beatles broke up, the Vietnam War was at its peak, the world's population was less than 5 billion and in a small town in Texas, Eastfield College opened its doors for the first time.
2015 marks the 45th birthday of Eastfield and the 50th anniversary of the Dallas County Community College District.
Professors Bob Whisnant, Mary Forrest, Bob Felder and Carl Knight have taught at Eastfield since the beginning. Through eight presidents and before computers were popular, these professors have made Eastfield their home.
With 48 years of service, professor Bob Felder has been part of the DCCCD longer than Eastfield has been around. After three years teaching business at El Centro College, he transferred to Eastfield when the campus opened.
Felder graduated with a master's in business administration from Sam Houston State University, then known as Sam Houston State Teachers College.
"I never wanted to be anything but a teacher," Felder said. "That's what Eastfield was able to do for me, and that's why I've enjoyed it."
One of the biggest issues he saw in the first years was the formation of an exclusive environment. Students from different high schools would remain with their same friends, prejudice dividing each of these sub-communities.
Later, technology came into play. While Felder remembers changing from the chalkboard to the white board as a great improvement, he said that the introduction of cell phones to the classroom has many times created unnecessary distractions.
"The first issue with phones was pagers. Students would have pagers and their pagers would go off in the room," he said.
With over 50 years of experience teaching, Felder's advice to students is simple.
"It's a privilege and not a right for them to be able to go to school," he said. "And they need to treat it as a privilege."
Having built a life in the district, the economics professor recognized the important role the college has had in his life.
"When you're lucky enough to make a good choice early on, like I did at Eastfield, then you just stay there," he said. "And as a confirmation to that, I was lucky to find the right woman and I've been married to her for 56 years. It's a good thing if you can get a good choice the first time out."
Dr. Mary Forrest remembers Eastfield as a 1,000-student institution back in 1970. Forty-five years later, she counts more than 10,000 students she has taught in her career.
An alumnae of Southern Methodist University, Forrest arrived at Eastfield after teaching theater classes in high school for six years. Right before Eastfield opened, she decided to change paths.
"I decided at that time I wanted to leave that and go into another job, but also have a family and perhaps get married," she said. "Not just teach but have a more well-rounded life and get more involved in the community, family and teaching."
Forrest fulfilled her desire to be a mother in 1971 when she gave birth to her daughter, Laci. In 1978 she had her second child, Jason.
While Forrest's children didn't attend Eastfield, she attributes this to the fact that they practically grew up at the college, she said.
"When I would come on Saturdays or at night, they would come with me," she said. "Since they were little, they had always been at Eastfield College."
Forrest complements her speech classes by relating her travel experiences to her students. She said she takes her students out of the classroom to local museums in order to get inspiration and background for their speeches.
In addition to teaching, Forrest is also adviser to the Communications Club, founded in the 1980s. They require their members to participate in community service, Eastfield service, fundraising and socials.
Forrest's passion for service has led her to house two students for the past four years. One of them, a previous student at Eastfield, is about to graduate from Dallas Baptist University and has been in Forrest's life for nine years.
Forrest said she plans to work for four more years. Once she reaches 50 years with the district, she plans to retire.
Dr. Carl Knight's early philosophy on community colleges has guided him through his 45 years at Eastfield. His conversations with the college's first president and now DCCCD legend, Dr. Jan LeCroy, encouraged him to leave a promising research career and come to Eastfield as a science professor.
"I come from the Kennedy background, from the 'Don't ask what your country can do for you, but what you can do for your country.' And [LeCroy] said, 'If you want to make a difference, then you come to Eastfield, because we're going to make a difference in the kids,' " Knight said.
Knight graduated from Michigan State University with a degree in poultry science and later got his master's degree in science and his doctorate in philosophy from the same university. As a professor, he has found that a positive attitude, encouraging words and persistence are the three elements to achieve greatness in teaching.
"Eastfield really cares about the kids. Our priority has always been the students," he said. "We're here to be a facilitator, [to] get them where they want to go."
Knight said that time has been his greatest challenge at Eastfield.
"If you're going to be successful, you can't put in a 40-hour week," he said. "There's so many other things outside of [teaching]. … It takes a lot of time to be a good teacher."
As for his greatest achievement, the biology professor said it has been seeing his students grow and defy peoples' expectations.
"My dentist is my student, my PA [physician's assistant] is my student, my pharmacist is my student," he said. "That's why I go to them, because they're good. … They've been taking care of me as soon as they graduate."
Now that he has had more than 50 years of teaching, in and outside of Eastfield, Knight reflected over his decision to dedicate his life to academia.
"As you look back over your life, you're not going to remember how much money you made, but When professor Bob Whisnant joined the Eastfield family, the F building was still under construction.
Many students were Vietnam War veterans and middle-age housewives, and Whisnant remembers that in those first years of teaching, it wasn't uncommon for him to be the youngest person in the classroom.
Whisnant graduated from the University of South Florida in 1970 with his master's degree.
After reading about the DCCCD, Whisnant was impressed with the district's plans. He was interviewed and hired by LeCroy.
When he began teaching art history, art appreciation and humanities at Eastfield, it was his first job in higher education and he was 25 years old.
He said that class discussions were much more interesting back then.
"I could ask my class if they thought women should get equal pay to men and I'd get an argument," Whisnant said. "There was still a lot of controversy whether Vietnam was a good or bad war."
During his 45 years, Whisnant has seen the classroom culture change.
"Students in the '90s and 2000s don't seem to be as interested in protests or politics," he said. "Most students seem to be focused on making money rather than civic issues."
Although Whisnant has experienced many challenges, he has also enjoyed achievements. He and his then dean, Dr. John Stuart, wrote the stage musical "Heroes," which was performed at Eastfield in 1986. He also designed an online humanities course with other DCCCD faculty.
"The DCCCD is one of the best districts in the country," he said. "And there's no better school than Eastfield."