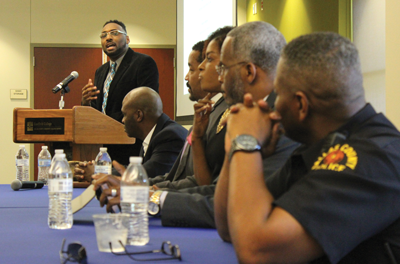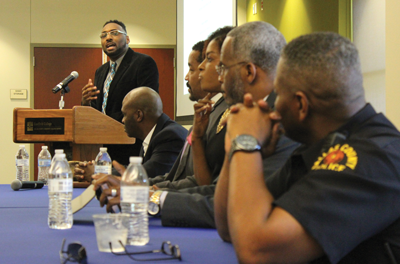 By Karina Dunn
One by one, five panelists at Eastfield's town hall agreed: Yes. Race played a role in the shooting death of black teenager Michael Brown by a white Ferguson, Missouri, police officer.
"Race plays a role in everything we do on a daily basis," attorney Russel Wilson said.
One panelist dissented. Eastfield campus police Lt. Timothy Ellington said no one could know the mind of Officer Darren Wilson during those minutes of confrontation on Aug. 9, 2014.
"We can't know if it had to do with race or if the officer was just being afraid," he said.
The relationship between minority young men and police officers was the focus of the Feb. 18 town hall co-sponsored by the Office of Student Engagement and Retention and the Men's Empowerment Coalition.
Moderator Brenda Turnbull put the event in perspective.
"At this point we must ask the question, why are we still talking about race?" she said.
Other panelists were minister of social justice Danielle Ayers, speaker and youth mentor Kivarris Rector, professor of criminal justice Patrick Patterson and author Richard Miles.
Miles, a former Eastfield student, was mistakenly charged with murder and imprisoned for 15 years because he was wearing similar clothes as a criminal. He believes an all-white jury did not provide proper representation and that prejudice is still an issue today.
"If you don't talk about race, you are running from the real problem," Miles said. "And yes, race is part of the problem."
Panelists explored whether officers have the right to profile minority youth based on appearance. Audience members added that people of different races wear similar clothes, but are not stereotyped the same way.
Engineer major Devante Peters spoke from experience, pointing out that citizens should wear what they want without fear of profiling by police.
"[Do clothes] look that way on the rack?" Peters said. "Is it the clothing you're judging, or are you judging me, or are you judging me based on where I am when I have [these clothes] on?"
Participants discussed the impact of this attitude and the danger of relying on hearsay to racially profile or stereotype individuals. A conversation that minority parents have with their children was referred to as "the talk," meant to instill in children the best way to engage officers.
"It starts when we're kids," Rector said. "If these are the people who are supposed to protect us, then why are they scaring us?"
Audience member Charles Siler said he's had "the talk" with his son.
"I've had enough encounters with police officers to know they need to understand they're meeting someone who is their equal," he said. "I've told my son, 'If you get pulled over address him as officer.' You don't have to be shady. You don't have to back off."
Government professor Rhonda Miller said she advises her students to know their rights.
"It's important that students talk to police officers about their experiences," Miller said. "It puts young people at ease."
Ellington mentioned standard procedure for police officers answering low-risk situations.
"The officer is supposed to announce himself and explain why he is stopping you," he said. "Do not argue. It could escalate the situation.
"Some of our younger black males do not respond right, especially to police officers" Ellington said. "You have to be careful when you're stopped by a police officer, follow those commands. Or else that officer may get a little tense… in his or her mind thinking they're in danger."
Miller agreed with Ellington on not making an encounter with officers more volatile than it needs to be.
"We do have control over ourselves," Miller said. "It's not about bowing down. Humble yourself, giving 100 percent of what you know you're supposed to do."
Participants acknowledged that individuals can never know when they will encounter crooked cops, but should never demonize all law enforcement based on the actions of a few.
"I cannot account for the actions of every police officer," Ellington said. "but I can account for the [Eastfield officers] and how they're trained."
Courtney Brazile, speech professor and adviser to the Men's Empowerment Coalition, provided closing thoughts.
"I would hope you all take away that it's very important we learn to respond to things instead of reacting to things," he said. "That is one thing that can help de-escalate situations. It is only through discussion that we can help students be empowered and help you make better decisions for yourselves."