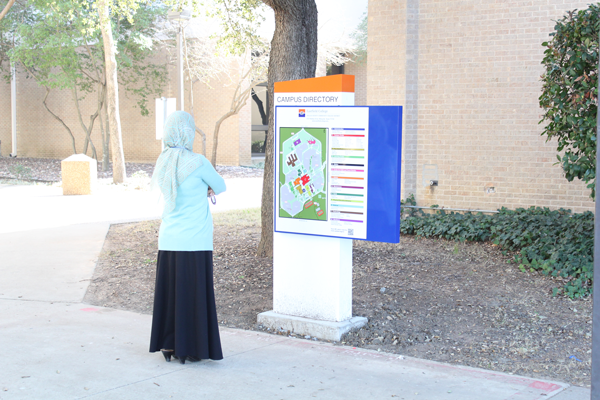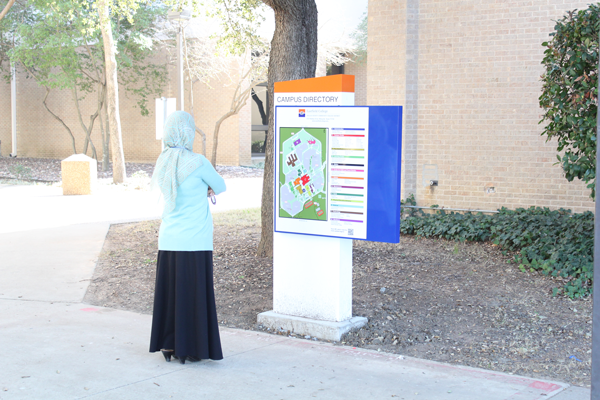 By Karina Dunn
Updated safety procedures have been introduced to Eastfield, including the use of police body cameras, increased officer presence, a new centralized door-locking system and campus maps.
Following the sexual assault of a student on campus, a string of unrelated thefts and the attack of two police officers by intruders last semester, college administrators and police re-evaluated safety procedures. They held forums last semester at the main and Pleasant Grove campuses seeking input from faculty, staff and students.
Suggestions included increased police presence and body cameras for officers.
"We want students and faculty to see the officers performing regular patrols, on foot," Eastfield spokeswoman Sharon Cook said. "Placing officers in more areas on campus would increase security among students while encouraging them to stay aware of their surroundings."
The body cameras are meant to record any interactions with police.
"There are enough for each officer on each shift," Cook said. "We would make sure that students know officers have body cameras meant to assist in investigations, if necessary."
When officers wore body cameras the use of force decreased by 60 percent and complaints dropped 80 percent, according to a study by the Rialto, California, Police Department and a Cambridge University professor.
The cameras will allow for a clear and unbiased retelling of incidents of campus, Conway said.
"They would help us know exactly what happened," Conway said. "It would also allow for different training and a better analysis of events."
The new centralized locking system allows all external doors to be locked from a remote location within the campus police department.The locks will be activated around 9:45 p.m. on weekdays and 5 p.m. on weekends.
Only certain individuals, including campus police, Director of Facilities Michael Brantley and President Conway can unlock the doors with special keycards once the lock system is active. Anyone who needs to access campus buildings after hours should contact the campus police department.
"Call the dispatch number and campus police would meet you and check your ID [before letting you in]," Conway said.
Eastfield's status as an open campus poses a security risk, Cook said.
"Our campus is open to the general public," she said. "So it's important for everyone to keep their eyes open."
The college has also added location maps and parking lot signs in highly visible areas on campus to prevent visitors from getting lost and for people to determine their location in the event of an emergency.
"We know that it can be hard to travel around campus," Conway said. "So we knew [these changes] were necessary."
Phillip Douglas, who is not enrolled at Eastfield but brings his girlfriend to classes, has already observed changes.
"I have noticed more officers on campus than before," Douglas said. "I try to stay aware … by looking over my shoulder and being careful who I trust and talk to."
One way that students can identify employees or faculty members is by their IDs or nametags. Employees are encouraged to wear golden badges to verify their identities.
The Eastfield Police Department hosts a forum each year inviting public input on how to make people feel more secure on campus.
"I think it's a good thing they're doing this," Jordan Kincaid, an arts major, said. "Safety for students is obviously important … and they'll be able to remove anyone who doesn't belong on campus."