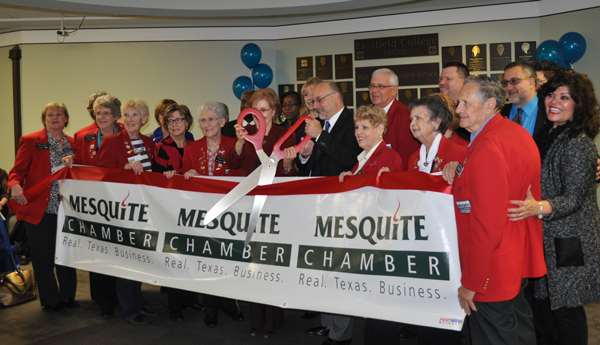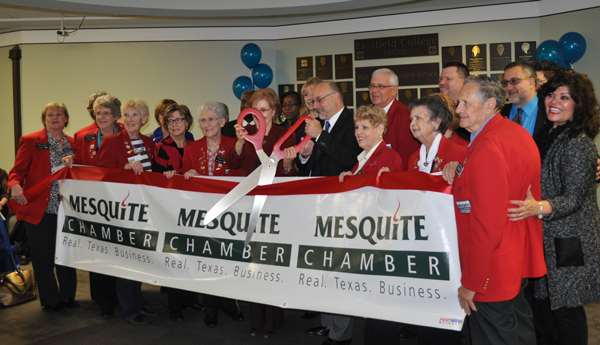 By Ethan Newman
Eastfield and Missouri's Columbia College celebrated their partnership Nov. 6 with a ribbon-cutting ceremony.
Columbia, a private, nonprofit university, opened an office last month in the W building and will begin offering classes on campus in January.
"The Columbia partnership with Eastfield will allow local students to receive a four-year bachelor's degree without uprooting their life at a fraction of the cost of a state university education," Columbia president Scott Dalrymple said.
Mesquite Chamber of Commerce representatives and Eastfield administrators attended the ceremony along with Dalrymple, who called the partnership a new era for community-centered education.
"Columbia has a long history of inclusion," he said. "We started out as a private women's college, then expanded to accommodate military personnel returning from war. This Eastfield campus continues the tradition of making quality higher education available to all."
Columbia classes will be capped at 20 students and cost $185 per credit hour. The University of Texas at Arlington charges $1,104 for a three-hour course, or $291 per credit hour. The University of North Texas charges $190 per credit hour.
Columbia's classes for its first semester will be limited to criminal justice, business administration, human services and general studies, but more will be added in future semesters.
Eastfield student Martin Chambers said he might enroll.
"I was planning to transfer to another university, but since they offer everything here, there's no need," he said. "Why move when I can finish school from here?"
Applications for the eight-week classes will be accepted Dec. 1 to Jan. 11. Admissions fees will be waived for Eastfield students.
"Middle-aged adults, teenagers, it doesn't matter if you're retraining for a second career or just starting out," said Beverly Morris, enrollment advisor for Columbia. "This four-year program is ideal for anyone who is looking to improve themselves."