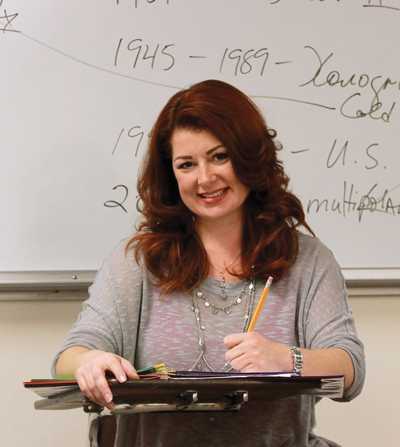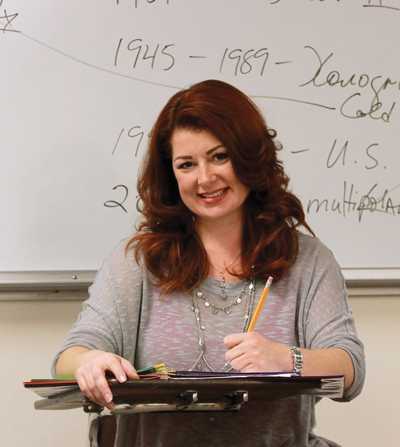 By Robert Burns
Rachel Quiroga is no stranger to adversity. In fall 2012, her husband was diagnosed with cirrhosis of the liver, which was caused by his addiction to alcohol.
"I felt very betrayed because he had been hiding his drinking and I had no idea," the Eastfield student said.
Quiroga was initially hopeful because his prognosis was good.
"He said he was going to change, but he didn't choose to follow that," she said. "Addiction is a difficult thing."
Soon after, they lost their house and had to move in with Quiroga's parents.
"He wasn't able to work and I wasn't working, and I wasn't sure how we were going to survive," she said.
It was a complete shift in Quiroga's life.
"I felt like I didn't want to be in this position again, that I needed to take control of my life, my future, my daughter," she said.
The couple was eventually able to receive aid, and Quiroga decided to pursue a degree in nursing. She applied for the Dallas County Community College District's LeCroy Scholars program in April. A week after writing her scholarship application essay, her husband died from complications caused by his cirrhosis. Quiroga said studying became a mini vacation for her, helping her cope.
A few weeks later, she received a call from the DCCCD Foundation notifying her that she was to be interviewed by a panel of eight people — the final step to determine who would receive the scholarships.
"I was excited, but I was still reeling from what had happened," she said.
Winning the scholarship was the ray of hope she needed.
"I felt like the universe was saying that things were going to turn around for me," she said. "It gave me hope in a time that was pretty dark for me."
The scholarship helped her during the grieving process.
"I know they always say live in the present, but sometimes the present really sucks," she said. "You have to look forward, and it has helped me to do that."
Quiroga has maintained a 4.0 grade-point average throughout her academic career while at Eastfield, exceeding the 3.0 requirement for the scholarship.
Professor Sal Frisella, who teaches physiology and anatomy, said the extra work needed to maintain a high GPA won't be a problem for Quiroga.
"I kid around with my students that we are all bipedal life forms," he said. "She is probably one of the best bipedal, carbon-based life forms that I have had the opportunity to teach. I expect great things from her, and I know she will achieve well."
To students in similar situations, Quiroga says to never give up.
"Don't lay down," she said. "There is a saying: Fall down seven times, stand up eight."
When she couldn't get up on her own, she relied on her family to help.
"Sometimes I would pick myself up, sometimes my parents would encourage me. Even my daughter encouraged me," she said. "You just keep getting up again because eventually it gets better. That is why getting a scholarship was like the light at the end a never-ending dark tunnel. You just can't stop because life is always going to change."
Despite her struggles, Quiroga believes things are steadily improving for her.
"I am still in some pain," she said. "It's like having been through an accident and survived it. I think things are good because I have a lot of hope."
Quiroga relies on both her studies and her 12-year-old daughter for strength and support.
"What I really look at is living for her and her future, and it makes my future brighter," she said. "She is a self-confessed nerd and she loves to go to conventions and stuff like that. So I do her costume. So for Comic Con a few weeks ago and for Halloween this year, she is a TARDIS. So that was fun to do."
Quiroga is a talented seamstress, her friend Misti Nalls said.
"I had a pair of MMA gloves that were falling apart and she took them and brought them back … better than when I bought them," Nalls said.
Besides being handy with a sewing needle, Quiroga also paints. Her work has been displayed in galleries such as the Bath House Cultural Center and the new EXHIBIT3 Gallery in downtown Dallas.
Her art was born out of a need to be creative rather than a serious career choice.
"I have always been on the PTA, and I've decorated libraries and things like that and the costume making and painting,"Quiroga said. "I guess it is more of a hobby. I love it. I get to express myself artistically."
However, science and caring for people are her main passions, which were sparked in her 20s when she was hired as a personal care attendant for a quadriplegic person.
She hopes to earn her associate's degree in nursing at either El Centwro or Brookhaven, where she has an interview in November. After that, she wants to earn a bachelor's degree at a state college and study perioperative nursing.
"I am grateful both for the LeCroy people, their faith in me and I am grateful for my experience at Eastfield," Quiroga said. "I think it was a big part of what kept me going. I felt angry for a long time, feeling like a lot has been taken from me, like I lost a lot. But that is no longer my focus. It is on what I do have, and I have a lot to be thankful for."