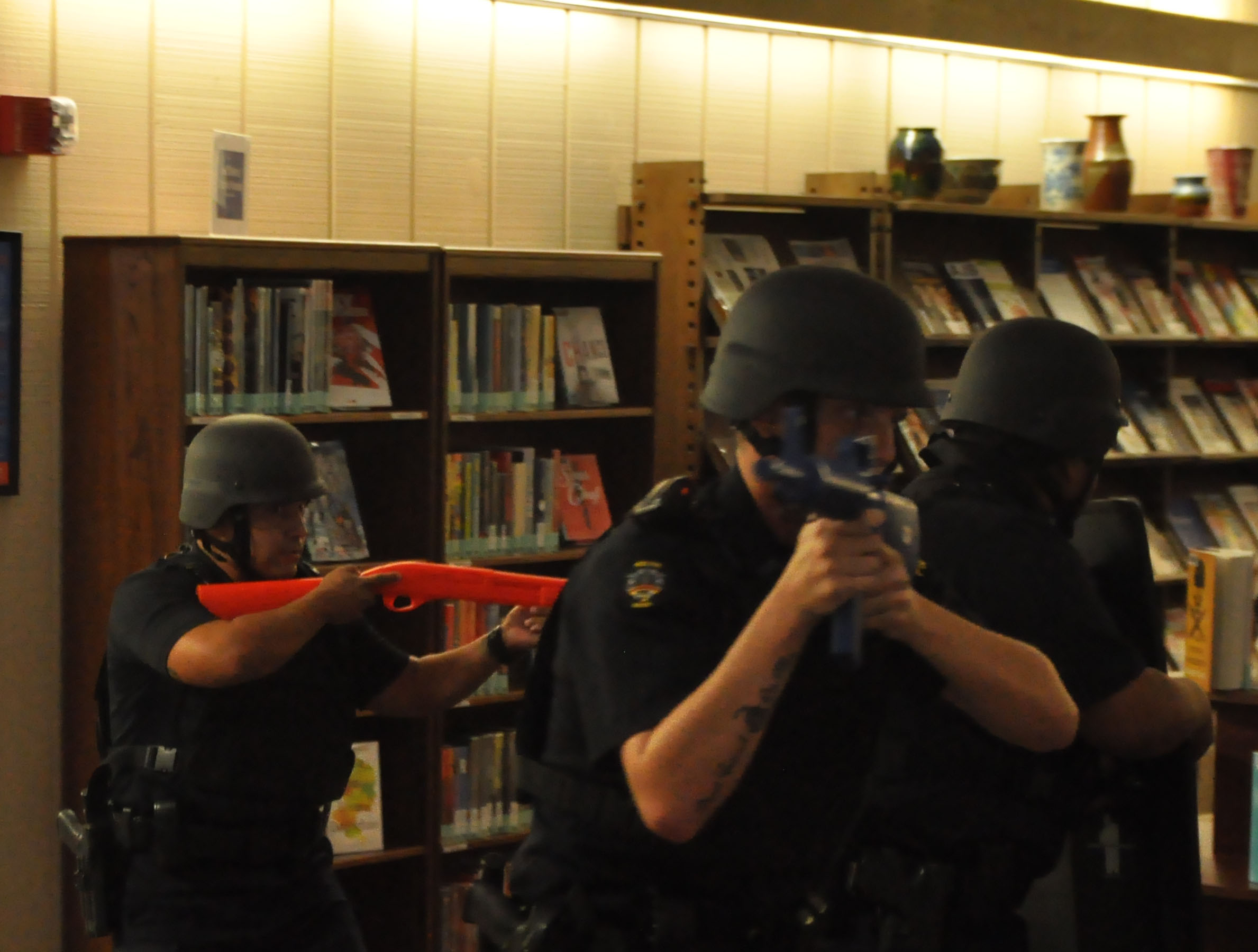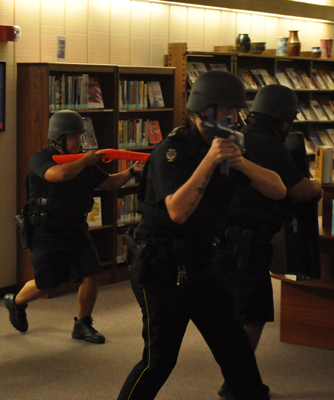 By Stephen Klehm, Paola Tovar
and Kristin Gines
While most faculty, staff and students huddled in darkened classrooms and offices during a 15-minute lockdown drill Oct. 1, a SWAT-like police unit stormed the Eastfield Library.
"Get your hands in the air," the officers yelled at a bystander as they entered the library through a rear door, fake blue and red guns raised. "Get down on the ground."
Four members of the College Campus Emergency Response Team simulated their reaction to an active shooter on the campus. They searched the library, discovering an "armed" suspect hiding in a bathroom.
"Shooter! Bang, bang!" shouted one officer.
"Shots fired!" yelled another. Most people on campus missed the police action.
During such events, both real and simulated, everyone on campus is directed to stay behind locked doors, sit on the ground and stay quiet. Even the library patrons were herded into a back room.
The Police Department conducts lockdown drills twice annually to teach the college community how to respond to an emergency.
"We're really pretty reasonably safe here, at your colleges and universities, but you still want to be prepared," Eastfield Police Chief Michael Horak said. "By doing this training, we're preparing the officers. We're preparing the community."
College spokeswoman Sharon Cook said emergency preparedness is a primary concern for administrators and drills are required by law.
"It's like a fire drill when you were in elementary school," she said. "But we have to prepare ourselves for any event that may happen at any time of the day."
Student Jo'Dee Burston said she found the drill informative but said many classmates did not take it seriously "People were on their phones and not really paying attention," she said.
The college is taking appropriate precautions, said student Rogelio Henriquez, despite how unlikely an incident here might seem.
"Nowadays you seriously don't know what goes through people's heads," he said.
Student Stacy Harris said she regrets missing the drill because knowing how to handle such an emergency is valuable knowledge.
Argenas Blanco, who also missed the drill, said he would expect instruction if in a class during an emergency.
"What if you were in the Pit?" he said. "What would you do?"
Horak said he wants to implement bi-monthly emergency training for students. Groups would meet with officers for an hour and discuss emergency scenarios and best safety practices. The more people who know that they should shelter in place or avoid entering the campus during an emergency, the better police can do their jobs.
"So if we can spread (information) to the students, staff and faculty when this type of scenario happens, and they know where to go, that'll help us," Horak said. "Because when we come in, we don't have time to stop and deal with any students. We need to go to that threat, and we need to neutralize it."