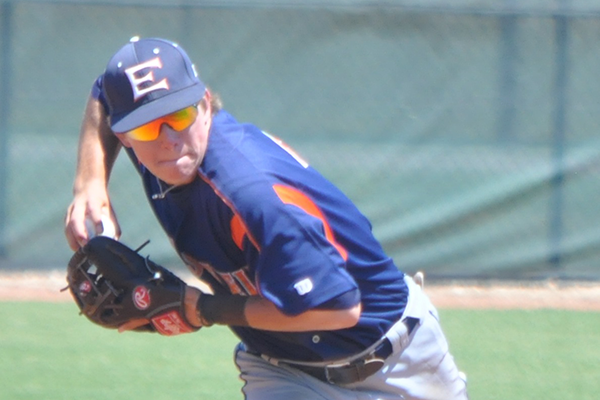 By KEVIN CUSHINGBERRY JR.
The Eastfield Harvesters clinched their 18th Metro Athletic Conference baseball title in school history and secured the No. 1 seed in the District C tournament with a series sweep at Mountain View last weekend.
"It feels good to finish the job on the final day of the season," sophomore center fielder Gavin Gregory said. "This was one of our goals. It's good to be back in the tourney and get a chance to see what we can do."
Eastfield finished the regular season with a 36-13 overall record, including 22-8 in conference play.
The Harvesters outscored the Lions 46-8 in the series, winning 22-3, 13-3 and 11-2. It was the team's highest run differential in any series this season.
"We knew coming into this weekend if we won three games in a row we'd be conference champs; that's what we did," said sophomore pitcher Matt Terrones, the Game 2 winner.  "We handled business. It feels great to have a lineup that really supports me. It frees up my mind to where I can throw strikes instead of having a close game, trying to press and do too much."
The Harvesters won't know who they will be facing in the tournament until this weekend's play-in game between North Lake and Coastal Bend is completed. They aren't concerned with any specific opponent.
"I don't know who we're going to see, but it doesn't matter to me," Gregory said. "Whoever we play, we have to be the best team on the field."
"We'll take all comers," Terrones added.
The Harvesters missed out on the District C tournament in Tyler last season after a player was found ineligible. Now, they're eager for the chance to make up for lost time.
"For [the sophomores] to be able to have a comeback season and win conference [is] kind of redemption from the end of last season," assistant coach Travis Graves said. "It says a lot about their character. Our sophomores are the leaders of our team. A couple weeks ago against Brookhaven, they had their backs against the wall. They came out, swept the last two series and won conference. I just can't say enough about those guys. They're good character guys. They play hard and they're the leaders of this team."
On April 17-18, the Harvesters lost a series at Brookhaven 2-1 [losing 10-2 in Game 1, winning 4-1 in Game 2, and losing 4-3 in Game 3]. They haven't lost since then, sweeping the final two weeks of the conference schedule.
"It's just been such a roller coaster of a season, and to come here and win conference is an amazing feeling," sophomore catcher Taylor Empkey said. "It's a blessing to be here, after not making it last year. It will be fun just to experience it. We made it this far, might as well win it all.
Graves, who has been to the District C tournament as both coach and player, said "all bets are off" when it comes to the postseason tournament May 16-17 in Tyler.
"When you get to the postseason tournament, you're 0-0," he said. "It doesn't matter how you got in, you're in.  It's a new season, it's a new beginning. You don't get to bring your conference record with you into the regional tournament. Now that you've found a way to get in, you have to play as hard as you can."
Coach Michael Martin said the Harvesters' road to the conference championship wasn't easy, but the team believed all along that it would be able to compete for a title.
"We're exactly where we wanted to be at the beginning of the season," Martin said. "We felt like we were one of the better teams in conference.  We've got a couple of teams in this conference that are well deserving of moving on. We feel like we're one of the best teams in this conference, and we established that. We went out and won the games we needed to win to put ourselves up at the top. It's been a great year for us so far."
Martin said although the regular season and conference schedule is over, the Harvesters' season is far from finished.
"This is what we play for, to put ourselves in a position to go to a regional tournament, and have an opportunity to move on." Martin said.
"I told the guys there at the end, now our season starts."