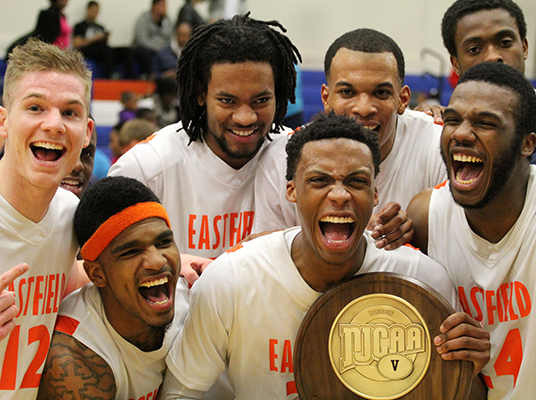 By Kevin Cushingberry Jr., Editor in Chief
Ricardo Artis had never played on a winning team. In fact, he hadn't played a single playoff game in his life.
The freshman forward signed with Eastfield six months ago in hopes of finally being a winner. Now, he can say he made the right decision.
Artis scored a team-high 19 points against Richland on Monday night, including 13 consecutive points in the second half, to help send the Harvesters to the national tournament.  Eastfield defeated the Thunderducks 88-78 to clinch the Region V title for the second straight year.
"This was the biggest game of my life," Artis said. "Going into the second half, I told my teammates I wasn't going to let us lose. This what we came here for. We're going to New York."
Despite a barrage of buckets from sophomore guard D.J. Jordan, who had 16 points in the first half, the Harvesters went into halftime leading by just two points, 46-44. Richland guard Robert Hall scored 17 points in the first half and finished with a game-high 24.
Jordan said his first-half effort was inspired by all the adversity he faced this season, including a suspension.
"I told my teammates I was doing this for Granny," Jordan said. "She always told me I was gonna make it, and I had to do it for her."
Artis' hot start to the second half helped the Harvesters run up an 11-point lead with 13 minutes to go. Richland head coach Michael Gross called a timeout, but Artis made a 3-pointer on Eastfield's next possession, putting the Harvesters up by 14. From that point on, Eastfield's lead never dropped below eight.
A string of four straight free throws by Andrew Maxie in the closing moments sealed the Harvesters' fate as Metro Athletic Conference champions. It was a perfect ending for Maxie, one of only two sophomores who played on last year's team.
"I turned down a scholarship from a four-year university to try and get back to New York," said Maxie, who finished with 11 points. "I just want to say thank you, and I love y'all to my teammates for helping me get back. Three more and we get one of those big rings."
Josh Shockey, the only other returner from last season's national runner-up team, finished with 10 points, all in the second half. Hall and freshman post Trevon Jeffery both had eight points in the second half for Richland, but the Harvesters held the Thunderducks' leading scorer, sophomore guard
Mister Carroll, to just four points in the second half and 10 points total.
Maxie said the win meant more coming against Richland. The Thunderducks had beaten Eastfield three straight times coming into the MAC tournament.
"I was mad we ended up the No. 2 seed after losing to them twice this season," Maxie said. "And they gave us our only loss in conference last season.
Going into the second round, I hoped Richland would beat Cedar Valley because I wanted to play them for the championship. It worked out exactly how I wanted it to."
The two sophomore returners aren't the only ones who made the trip last year. Coach Anthony Fletcher, shooting guard Quinton Jones (who was a redshirt) and assistant coaches Antonio Richardson and Kevin Martin will return to Loch Sheldrake, N.Y. The tournament runs from March 13-15.
After cutting the nets down on his home court, Fletcher said he had been thinking of this moment since last March.
"I dream about it every night," Fletcher said. "Every night … We've faced a lot of adversity this season. There were times where we could have quit, but we kept clawing away. We're going back to New York for the second year in a row. This makes it all worth it."