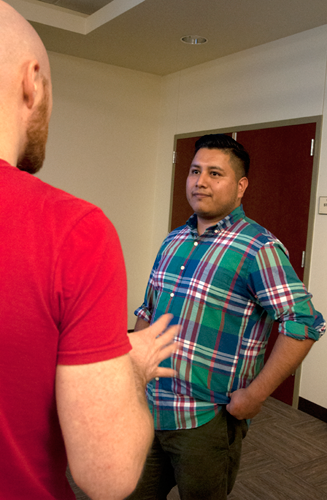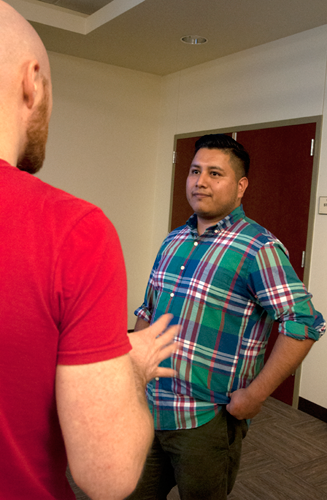 BY KEVIN CUSHINGBERRY JR., EDITOR IN CHIEF
Mexican-born artist Carlos Donjuan was just another kid with a spray paint can when he started honing his graffiti skills on the streets of Oak Cliff. Now he's noticed in countries as far away as Italy, where his work will be displayed in February.
On Oct. 3, Donjuan spoke about his progresssion as an artist during a guest lecture in G-101. Two of his works are in Eastfield's permanent collection, so Gallery Director Iris Bechtol asked him to speak about his art.
"Two summers ago we were given a budget to go buy a bunch of artwork," Bechtol said. "Our focus was to find artists who had ties to the regional area, and that's when we found Carlos."
During his lecture, Donjuan showed examples of his graffiti and paint work. He discussed how his work has traveled across America in the past year.
"I've gained a bigger following in California," Donjuan said. "Cheech Marin [from Cheech and Chong] started collecting my work, so that brought a lot of attention my way."
In his earlier work, Donjuan's subjects wore masks on their faces, a choice that some viewers have misinterpreted in the past.
"A lot of them were graffiti artists, so when I would take their picture they would always cover their faces," he said. "They wanted to remain anonymous, so that's the way I painted them."
When he paints, Donjuan said he tries to show his academic training, as well as what he learned while doing graffiti in the streets.
Donjuan is now a professor himself. He teaches drawing fundamentals and beginning painting at the University of Texas at Arlington, as well as a Saturday painting class at El Centro.
Donjuan has lived in the United States since the age of 3, but he said he's still viewed as a Mexican here. When he goes to visit relatives in Mexico, they view him as an American.
"I always felt a little weird being accepted here because I was born in Mexico," Donjuan said. "But then I always felt weird being accepted in Mexico because I lived here. So I always felt like I didn't belong."
When he was growing up, Donjuan often heard people use the phrase "illegal" and never knew what it meant. As he grew older, he realized they were talking about him.
"It was heartbreaking to know that I was who they were talking about," Donjuan said. "As I got older, I started to revisit that idea [in my art] and tried to show what illegal aliens truly looked like."
Many of Donjuan's portraits are set in a desert similar to the one his parents brought him across when they entered the country.
"When my son was born, my work started to change drastically," he said. "The idea of having my son around made my work friendlier. I started to wonder what he would think of my paintings."
Donjuan often thinks about different age groups and how they will interpret his work. He said he doesn't remember seeing any murals that inspired him as a kid. Now, he has a chance to inspire people of all ages with his art.
Donjuan recently won a $50,000 grant from the City of Dallas to paint a large mural in the Oak Cliff area.
"They have these in major cities like Los Angeles and New York," he said. "This will be one of the first in Dallas, and it gives a new sense of hope to artists in the Dallas area."
During his presentation, Donjuan showed the audience a painting of a man with his limbs amputated. He drew this to symbolize kids who try to hop on trains and ride from Central America to Mexico and are thrown off.
"Paintings like this help me to remember to keep pushing," Donjuan said. "Someone else is in a much worse place."
Tomas Renteria, an intern with Donjuan's Sour Grapes collective for five years, said Donjuan still works swiftly because of his past as a graffiti artist.
"You have to be real quick, keep it hidden," he said. "It's like those pictures with their faces covered. They didn't want to be caught for doing graffiti."
Art student Janeth Quintero said she was inspired by Donjuan.
"What I picked up from him was do what you love and be happy about it," she said. "I learned to keep control and do what you want to do. Put your work out there, push yourself. Never stop doing what you love."