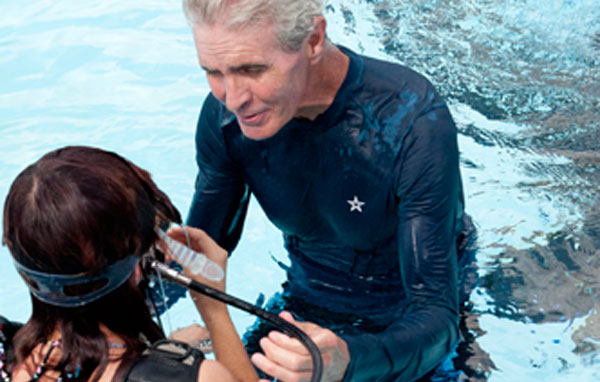 BY JUSTIN DAVID TATE: LIFE & ARTS EDITOR
Ken Balvin keeps returning to the same stretch of road on Greenville Avenue.He looks for potholes. He picks up rocks. He inspects every crack of the road over and over again, because in three days, the Eastfield scuba instructor is going to carry the Olympic torch down this route. And he doesn't want anything to ruin this moment.
"My thought was, 'You could drop this thing,'" Balvin said.
More than 120,000 people applied to participate in the 2002 Winter Olympics torch relay across the country. Only a tenth of the applicants were chosen. Balvin was proud to be one of them. Because of the timing of the relay, Balvin found a special meaning in the event.
"This was after 9/11," Balvin said. "It was only three months after [the anniversary of 9/11], December 12. September 11th devastated the United States. Everyone's spirits were low, [as the torch] traveled around the country, it really illuminated people. Lots of signs, flyers, crowds lining the streets to celebrate something positive. It was very uplifting."
The 2002 Winter Olympics torch relay was organized by Coca-Cola, Chevrolet and the Salt Lake Organizing Committee.
Each got to choose a third of the 12,000 people who would represent their community, run six-tenths of a mile and then pass the torch to the next person.
Coca-Cola chose Balvin based on essays from his former Eastfield students detailing how he embodied the Olympic spirit.
"When I found out they would take the time to write that I have been an inspiration in their lives, and that I was chosen, that's very emotional," Balvin said. "That's like real special stuff."
Balvin has been a physical education instructor at Eastfield for 37 years. The courses he teaches include triathlon fitness and scuba diving, his passion since the age of 16.
"Water has always been my home," Balvin said. "I was captain of the swimming team in high school. Scuba diving [was] a natural progression."
Though life appears to be smooth sailing today, Balvin's journey to Eastfield was a rough voyage.
In the mid-1970s, the state of New York laid off 100,000 of its teachers. Balvin, a Long Island native, was one of them, despite the success he had brought to his high school's swim team.
"It was strictly [based]on seniority, so even though I coached the swimming team, I had the first winning team that they'd ever had, and we were doing exceptionally well and everybody liked me, it was strictly, 'We love you, but we can't keep you.'"
Balvin looked for teaching jobs everywhere, but found as many as 500 applicants vying for a single job. A few times, Balvin made it to the final three, but his Master of Science degree and years of teaching counted against him.
"They would say, 'Would you take $15,000 less?'" Balvin said. "They wanted me for all that I had and my credentials, but they didn't have money. They would say, 'We have this guy, Ken Balvin, but then we have this guy fresh out of college.' So they would always take the cheap one."
Balvin had a new home, an infant son and no job to support either. After nearly a year struggling to find a job, he and his wife decided to move to New Hampshire where both took jobs working at a ski resort.
His wife worked at a children's day care for resort consumers while he worked as a manager of The Barn, a bar and restaurant on the resort. Though it helped pay the bills, Balvin hated not being able to work in water.
"It was devastating," Balvin said. "I had to rent my house out. I had to leave it to strangers. I had to pack up my family and go to a cold place, but we made it fun."
Balvin spent time skiing at the resort, but his first athletic love was always water. He worked as a lifeguard every summer on the beaches of Fire Island, N.Y., for 30 years.
But in 1976, as he lived and worked on Loon Mountain, N.H., away from the warm lakes and infinite oceans he once surfed and swam, Balvin looked into a publication called the Chronicle of Education for a job that would lead him back to his love of water.
"I would find places to go and that's where I found this place in Dallas County Community College, Eastfield," Balvin said. "I said, 'Misqueet, huh? What the — well it's close to Dallas, it can't be that bad," Balvin said.
Balvin and his family moved to Texas after he was hired as a physical education instructor at Eastfield in 1976. Upon arrival, Balvin started the scuba diving program at the DCCCD, teaching such instructors as Mike Miles, a physical education instructor at Richland College.
"I fell in love with [Texas]," Balvin said. "My daughter was born here. It's always been good, because I can get away in the summers and always get to the ocean. I can spend my summers diving and doing triathlons with family."
One of Balvin's students, kinesiology major and college lifeguard Gio Guzman, credits Balvin with changing his life.
"Ken's one of those very few professors who you not only actually learn something [from], but carry with you throughout your life," Guzman said. "Some of these professors lecture and at the end of the semester, you don't even remember half the stuff they talked about."
During a recent campus event called Discover Scuba, students and faculty were invited to try scuba diving to see how they liked it before joining Balvin in his spring semester class.
Balvin patiently instructed all who came, slowly leading them from shallow waters to the 14-foot end of the pool. Library assistant Jesse Brown said he grew up idolizing scuba divers on TV, but never thought he would be able to try it until he met Balvin.
Since it was his first time, Balvin walked Brown through diving in simplistic terms.
"For a first-timer, I feel like a vet now," Brown said. "I'll definitely see him in March."
Balvin enjoys being patient with his students and said he has always been that way. Even after they become certified divers, Balvin wants to help them become great divers, which he says will take time.
Balvin invites his former students to take trips with him all over the world, from Belize to Cozumel and even the Philippines, to dive into oceans beyond the U.S.
"I took 25 down to Belize last summer," Balvin said. "I take people all over. We just travel as cheap as possible. I organize it and we all go and have a great time and take over the boat. So that's the next part of it, too. My students become my close friends. We travel and they're not my students anymore, they're my buddies."