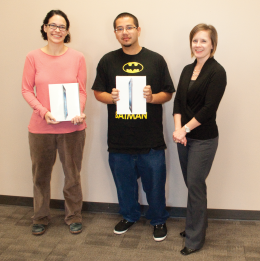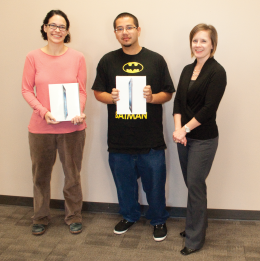 By Justin David Tate
More than 300 participants signed up for the college's first Lose to Win weight-loss contest during the fall semester withiPads going to those students who lost the biggest percentage of their body mass.
There were three winners–a female and male student and a faculty member–and the participants lost an average of 5 percent of their body mass.
The male winner, Estabon Hernandez, had already begun a weight-loss regimen, losing a total of 66 pounds since June. He lost 11.22 percent of his body mass during the contest, which spanned from September to December.
The iPad served as only a minor motivation for Hernandez, who had tried other diets in the past with little success.
This time, he was determined to finally make the necessary changes to begin losing weight. These changes included "staying away from fast food" and drinking water.
"My whole diet plan was just the opposite of what it was before," Hernandez said. "[Now I'm] being picky with what I eat, what I drink, anything I would snack on, what time of the day I eat at. [I try] not to eat after a certain time, like 9 or 10 p.m."
Many contestants, including female student winner Amy Ross, used the support of others to motivate them.
Ross lost 12.19 percent of her body mass while receiving daily encouragement from her husband as they both dieted and exercised. Despite winning the iPad, she and her husband don't plan on slacking off. The two have made contingency plans in case the weight returns.
"We're going to continue to weigh in every day," Ross said. "That way, if we get five pounds over our goal weight, then we can do a little quick mini-diet, and it'll be easier than trying to lose so much weight."
Biology instructor Jessica Kerins, the faculty winner, won a special parking place on campus instead of an iPad like Hernandez and Ross, but her initial reason for entering the contest was to lead her students by example.
Kerins encouraged her students to enter the competition, so she entered herself and lost 4 percent of her body mass. She said one of her best methods for losing weight involved planning her meals to avoid a rush for junk food.
"I found that if I would plan more of my lunches and [bring] all that stuff with me at the beginning of the week, I would make healthier choices, rather than just grabbing something out of the vending machine," Kerins said.
Lose to Win was designed to correspond with the Common Book, "Fast Food Nation," which discusses the dark side of the fast food business.
Liz Nichols, dean of Student Support Services and Academic Enrichment, served as the head of the Common Book committee that chose "Fast Food Nation."
Nichols helped coordinate Common Book events on campus, including health discussions and guest speakers ranging from physicians to personal trainers. Nichols said she was "excited to see students who make progress."
Many contestants, such as Cecilia Chatmon, gained a new outlook on life through the competition. Chatmon changed her eating habits and adjusted to a healthier lifestyle.
"I used to get big plates and fill it up and go back for seconds," she said. "But I didn't do that this time. I didn't go back and get seconds."
Clothes were a big motivator for Abraham Robles.
"I had to go to the Casual Male XL store," Robles said. "If you ever walk in there versus J.C. Penny or Macy's, the clothes don't look as good."
Robles said he once barely fit into 4X shirts, and now a 2X is starting to fit loosely. He, like Hernandez, began changing his lifestyle to lose weight months before the Lose to Win contest started.
Robles feared for his health due to what he saw on the scale one day.
"I got close to the 400 plateau," Robles said. "I just never wanted to see that number. I don't know why 300 was OK, but once it started looking like I was getting closer to 400, everyone was like, 'You need to stop.' I said, 'I'll never go back there.'"
Chatmon believes most people need someone other than themselves to push them.
"Get involved with a class or into a competition," Chatmon advised. "Competition is always good because everybody wants to win. So if you get into a competition, you are going to try to win, even though you may not. But you try. It's in the back of your mind: 'Maybe I shouldn't eat that extra donut. Maybe I'll just eat one instead of two.'"
Along with eating smaller portions, Chatmon took Zumba classes. At the start, she "could hardly get up without being in pain." Her knees were hurting, but as she continued her Zumba course, the pain stopped.
The announcement of the fall winners of the Lose to Win contest marks the end of the college's efforts to present the health and nutrition side of the Common Book.
"In the spring, our focus is not going to be nutrition," Nichols said. "It's going to be more on culture and economics and the business aspect of 'Fast Food Nation.'"
For anyone wishing to follow in Hernandez's footsteps, he offered a bit of advice.
"There's only one thing: You've got to be able to motivate yourself," he said. "If you have that, that's all you need. And just don't give up."