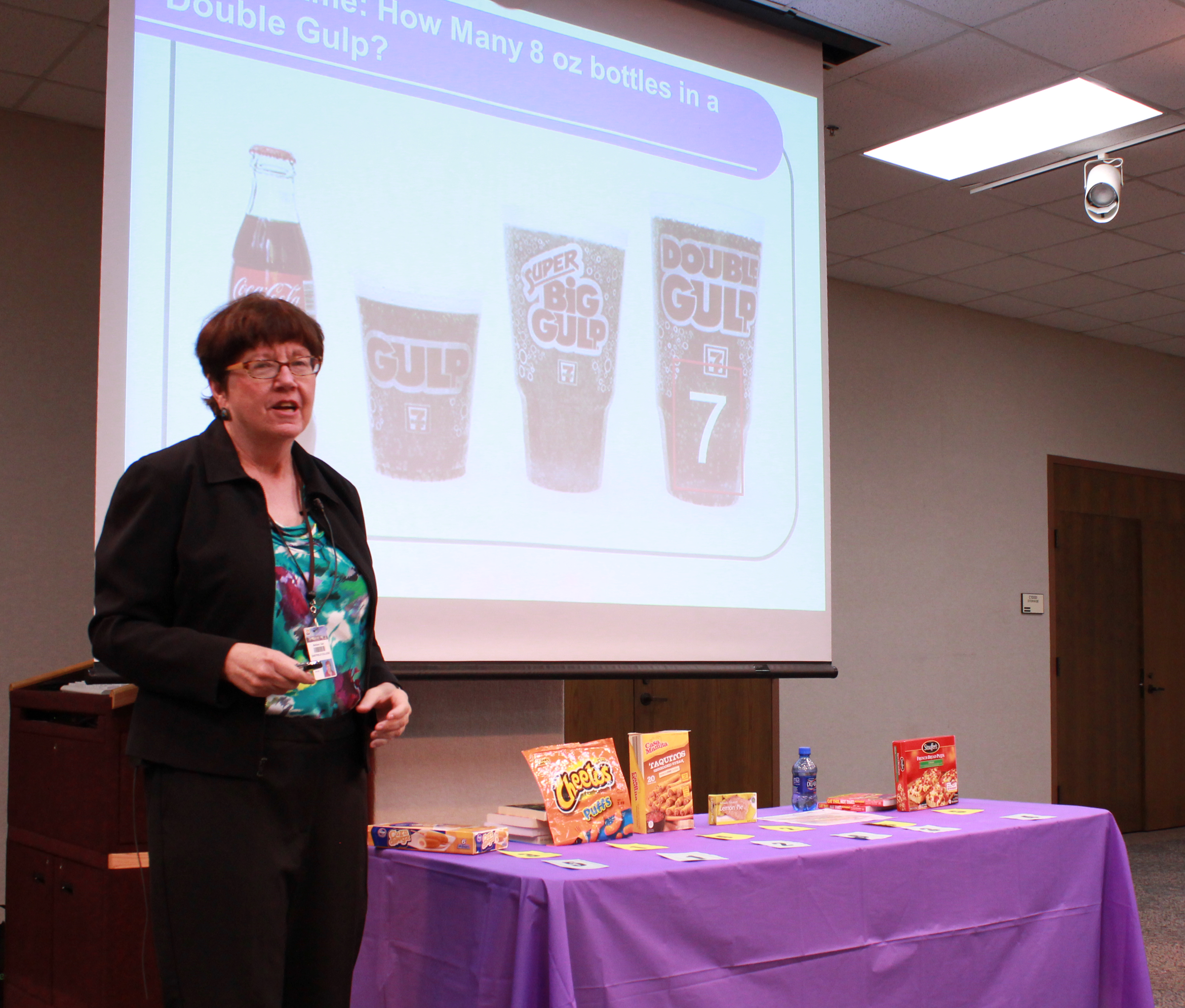 By Jimmy Ambassa
What has so many calories that, if converted into energy, is able to power a 60-watt light bulb for 1.5 hours? A single slice of cheesecake.
How many calories can fuel a car for up to 88 miles? 217.
Those were a couple of the questions posed at the Fast Food Game Show, a trivia event held Oct. 30 that taught students about the impact of fast food on their diets.
The event was held in conjunction with the common book, "Fast Food Nation."
The trivia contest opened with the question "What is a calorie?" This marked the start of a competition in which participants could win one of many prizes for answering questions correctly.
After audience members shouted out the various reasons why they like fast food, the game show challenged them to arrange six food items in order,  from the fewest to the highest calories. Then they compared several major fast-food chains.
Biology professor Barbara Carr decided to host the session on the nutritional contents of fast-food restaurants and their impact after seeing how her students viewed food.
"It became apparent to me that my students were not very knowledgeable about the nutritional content of food," Carr said. "So I thought of a fun way they could learn."
The trivia competition challenged students' knowledge of food components such as carbohydrates, which only provide short-term energy, and lipids that provide long-term energy.
Double Gulp drinks sold at 7-11 were among the items to avoid, along with Sunny D, Vitamin Water, Jell-O, and Starbucks cinnamon dolce lattes. Suggestions from the book "Eat This, Not That!" by David Zinczenko were used.
Carr advised students to be more aware of the growing obesity epidemic sweeping the nation. Her trivia co-star, developmental writing and English instructor Selena Stewart-Alexander, stressed the need for students to react to what they learned.
"I hope they learned to be more conscious of what they actually put in their mouths," she said. "We wanted to present this in a fun way so they would pay more attention."
Students who attended said they realized they need to make some major changes to avoid obesity. Jose Rodriguez, who is majoring in logistics in applied management, felt motivated to start a healthier lifestyle.
"I realized that calories is not just a word," he said. "When I walked in, I grabbed a soda. Now I still have it in my bag. I think my sweet tooth is actually gone because I learned that if I'm not going to be active, I should not eat, because I'm going to get wider."
The event challenged contestants to choose ways to lose weight without dieting over a four-year period. It demonstrated that eating a grilled chicken sandwich is better than a Southwest salad with crispy chicken at McDonald's because there are fewer calories and fats in the sandwich.
Carr believes the growing trend of obesity is due to a lack of accurate knowledge of fast food.
"It [boils down] to knowledge, attitude and practice," Carr said. "[They] need to have knowledge about what's good and what's bad."