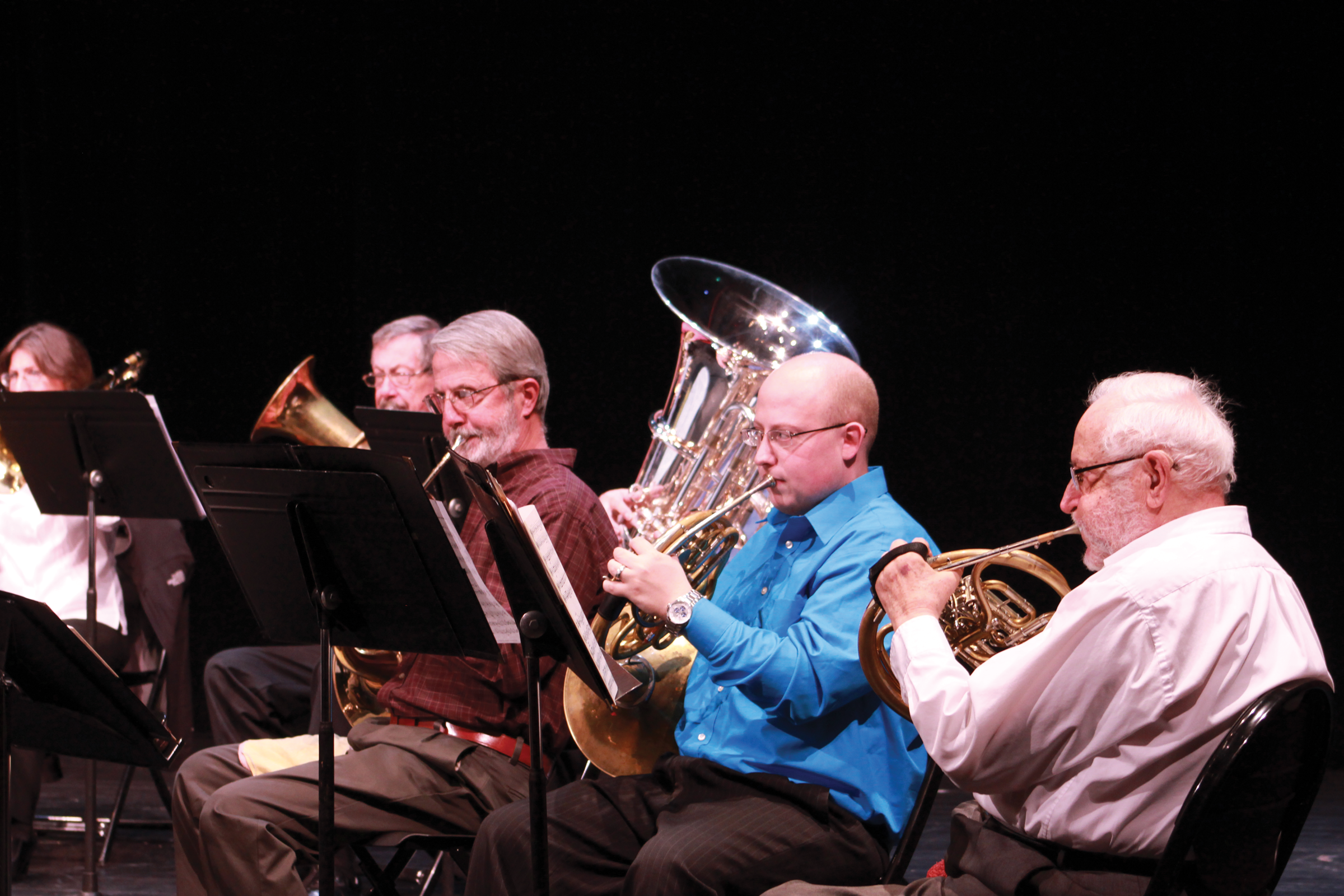 By Anjulie Van Sickle
People take their seats as the performers shuffle their papers and tune their instruments. The director taps his baton on his music stand to call the group to attention.
The musicians make sure everything is in place to start. They look expectantly at their leader for direction.
As the sound of the pieces from the early Renaissance to the 21st century fill the auditorium, the audience taps their feet in appreciation.
Directed by Philip Graham, the Early Brass Ensemble performed a wide variety of music for the students, staff and faculty who attended the college's Wednesday Recital Series on Oct. 31.
From trumpet to bugle horn, each instrument had its own unique sound, and each member had his or her own story to tell.
"They're all successful business people," Graham said of his fellow musicians. "We have some very wealthy guys who love to play brass. It's a very eclectic group of people."
Some are band directors, some are engineers, and others are insurance adjusters. There are a very wide variety of interests within the group.
To match the diversity of its players, the ensemble included pieces as wide-ranging as those that would be played in a European cathedral to pieces inspired by a composer's cats.
Dr. Oscar Passley, the college's director of music, decided to bring the ensemble to the school two years ago after a suggestion from an acquaintance.
"It was a collaborative effort, and everybody here wanted to do it," Passley said. "It's a class, and we have fun. It's a win-win situation [for everyone.]"
Passley, who has been playing the trumpet for roughly 19 years, said he enjoys playing the instrument in the ensemble. He also dabbles in piano and saxophone on the side.
Graham said the dedication of all the group's members is impressive.
"It's a group that just really loves to play for playing sake," Graham said. "Everyone's ready to play by 7 a.m."
Graham played trombone for the Dallas Symphony Orchestra for about 30 years. He has conducted choir and orchestra at his church for 20 years.
"I just wave, you guys make the notes," Graham said to the members of the ensemble.
The ensemble has been together for two years. However, some of its members have been playing together as many as 25 years.
Graham said the ensemble is looking forward to playing at the college again in the spring.
Those in the audience at the fall performance were appreciative of the experience.
"It was educational, and I liked the assortment of instruments," continuing education professor Frank Curtis said. "I enjoyed it, and I enjoy all of the Wednesday concerts."